Students who saved lives face test, rice blamed for sparrows death cleared for consumption, heroic students to appear in exam, man fathers several children for begging.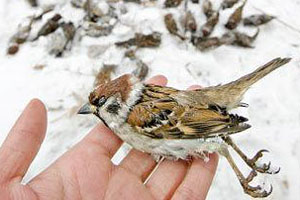 Rice shipment blamed for sparrow deaths gets all-clear
Dozens of sparrows died after eating rice in Yichang city on Sunday, but the authorities claim they have tested the grain and found it safe, Hubei-based Sanxia Evening News said on Wednesday.
A cargo ship carrying four batches of rice produced in Northeast China to Chongqing docked in Yichang city and lots of rice fell out of the cargo.

After several sparrows eat the crop and died people got concerned.

Authorities announced tests and halted the shipment until an all-clear was given. The investigators said after the results came out that the sparrows may have died of other causes.
Related:
Separated from flock, white sparrow gets help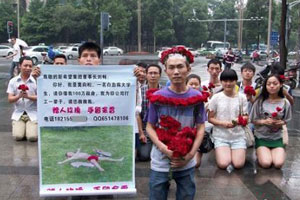 Student wants million yuan to cure leukemia
Strapping roses, a 24-year-old man, Mo Xiangsong, who was reportedly cured of leukemia by sunbathing a few days ago, knelt down in front of New Hope Group building in Chengdu, Sichuan province, with his classmates, ifeng.com reported on Tuesday.
According to Mo, he wants to borrow money from Liu Chang, chairman of New Hope Group, and promises to repay her by working for the company all his life. He has strapped roses because he wants more people to be helped and also to remind others of the saying, a bit of fragrance clings to the hand that gives flowers.
Related:
Young leukemia sufferer faces serious difficulties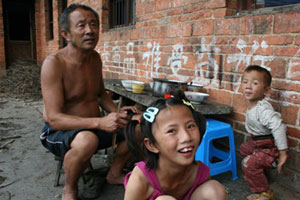 Beggar fathers children for begging
Zhu Deshi, a 59-year-old beggar, took women into his care and they gave birth to a dozen children. Eight of these died, two of them were stolen and two survived during the man's 41 years as a begger in Miluo, Hunan province, fengone.com reported on Tuesday.
According to local officials, Zhu's children were born to be raised as beggers. Although locals donated for his sick child, but Zhu used the money to gamble and eat out. Zhu lives with a woman suffering from mental illness in a barren mountain with his two children, surviving on the kindness of others, but refusing to accept government's help to change their lifestyle.
Related:
'Generous beggar' helps others with his earnings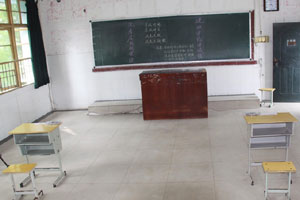 Heroic students sit gaokao today
Liu Yanbing and Yi Zhengyong, who protected people on a bus from a knife-wielding assailant in Yichun city, Jiangxi province, will sit for their college entrance examination on Wednesday and Thursday, said Beijing Morning Post on Wednesday.
Though only these two students are taking the exam, the process will run exactly the same as the usual one. The backup question papers will be used and the pair will sit for the exam in the same room as they study different disciplines —one arts and the other science.
Related:
'Good Samaritans' to get separate gaokao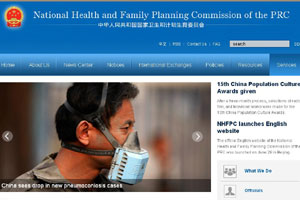 Health site in English set up for foreigners
The National Health and Family Planning Commission launched its English-language website, en.nhfpc.gov.cn, on Saturday to offer better services to foreigners.
The website will serve as a window to allow more foreigners to learn about the latest developments in the country's health and family planning sector, Li Bin, minister of the commission, said in a written message. She pledged to intensify international exchanges and cooperation.
Related:
Top 10 health and family planning news stories in China in 2013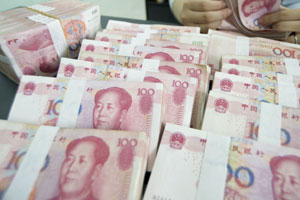 Ex-police officer gets 11 years for bribes
A police officer in Guangzhou was sentenced to 11 years in prison for taking bribes, Southern Metropolis Daily reported on Tuesday.
Shao Yanfeng, former deputy director of the Huadu district branch of the city's public security bureau, received 3.2 million yuan ($515,900) from a nightclub from 1996 to 2001.
Related:
Former vice police chief Li Dongsheng expelled from CPC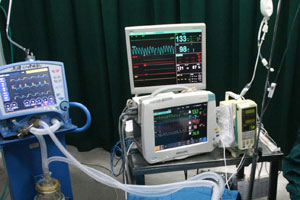 Couple places son on transplant list
A couple from Guizhou province traveled 650 km to Chongqing to place their son on an organ transplant list, Dahe Daily reported. The boy's father, Qiu Peiliang, said his 4-year-old son was diagnosed with a brain tumor last year.
After visiting hospitals around the country, Qiu and his wife had given up on finding treatment for their son. Because Guizhou does not have an organ transplant list, the couple traveled to Chongqing.
Related:
List of hospitals that are approved for organ transplant projects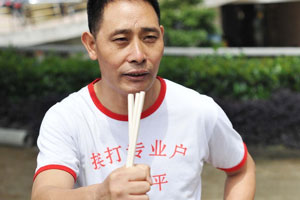 Human punching bag wants to work in US
A man in Anlu, who earns more than 200,000 yuan ($32,250) a year by letting people punch his abdominal region, wants to go and take his act to the United States, Strait News reported.
Xie Shuiping, 48, started to learn kung fu from his grandfather when he was 16. Because he earned very little as a migrant worker, Xie decided to take advantage of his kung fu knowledge and charge people to beat him. Xie earned 20,000 yuan to 30,000 yuan every month for being a human punching bag.
Related:
Kung fu recruits find skills well-suited for police work