A new book by China's former premier recalls his love story, square dancers in Zhejiang are attacked by oil and a 25-year-old boy becomes the youngest organ donor in China.
Li Peng book focuses on love and marriage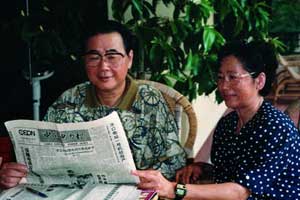 China's former Premier Li Peng has published an autobiography, recalling his courtship and marriage to his wife, xinhuanet.com reported.
Li's book features the first 55 years of his life, including his development and working experiences between 1928 and 1983. It also records the couple's love story.
Related: Li Peng's daughter denies 'rumors'

Men splash oil onto square dancers
Five women square dancers were attacked by two men who poured oil onto them during their dancing at a residential community in Shaoxing, Zhejiang province, takungpao.com reported.
A victim, surnamed Wang, said two men dressed in black poured engine oil on their heads before fleeing.
Disputes between square dancers with loud music and residents who complain of being disturbed have drawn attention recently.
Related: Guangzhou plans ban on square dancing at night

Officials must personally test water
Officials in Zhejiang province will be made to swim in rivers to test the quality of water "instead of showing statistics about whether people can drink or swim", Mao Linsheng, vice-director of the National People's Congress of Zhejiang province said as the activity was launched, Wuhan Evening News reported. The province has cleared rubbish from 2,894 kilometers of waterways.
Related: Top court considers launch of green tribunal

Baby donates organs
A 25-day-old boy donated his liver and kidney after he died of congenital heart disease in Guangzhou city, becoming the youngest organ donor in China, Guangzhou Daily reported. "He lived short but saved lives," said his father.
Related: China sets up organ procurement organization alliance

Student injured by exploding dustbin
An explosion in a plastic dustbin in Liuzhou left a female high school student with leg injuries. It was the third dustbin explosion in the city in four days, gxnews.com.cn reported.
Related: 17 military personnel dead after explosion at arsenal

Six prevent woman from drowning
Six people saved a young woman who was trying to commit suicide in a river in Xuanhan county. Yang Xingyi, a prisoner released on probation, was first to jump into the water but nearly drowned himself. West China Metropolis Daily reported.
Related: Mother, son drown selves in river after argument

Payout demand causes suicide
A paralyzed 68-year-old woman in Yilong county killed herself after a worker decorating her new apartment fell from the sixth floor and died. The worker's family sought compensation of 800,000 yuan ($129,032) but the woman could not afford it, newssc.org reported.
Related: Suzhou man steals taxi in suicide attempt

Fire in Dalian caused by oil pipe blast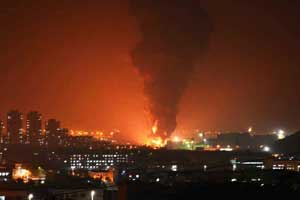 An oil pipe, belonging to China National Petroleum Corp, exploded causing a huge fire in Dalian on Monday. Firefighters tried to use foam and sand to prevent another explosion. The cause of the explosion was under investigation.