Work on setting up a "three-dimensional" security network is to be stepped up under a national policy package aimed at eradicating potential deadly attacks.
This will include monitoring technologies, checking citizens' information, expanding security resources at community level and strengthening precautionary measures.
Observers said the move to prevent such attacks mirrors the desire for a system that can adapt quickly and consistently to changing threats posed by terrorism.
The decision was announced in a guideline issued jointly on Monday by the general offices of the Communist Party of China Central Committee and the State Council.
The network will include intensified counterterrorism operations on public transportation and a shared information database linked to identity card numbers.
A nationwide population information database will be set up based on citizens' identity numbers, and unified credit record systems will also be established.
According to the guideline, China is working hard to ensure there is "effective coercion against violent terrorist crimes and extremely violent private crimes". This is designed to make the "public feel safer and more satisfied".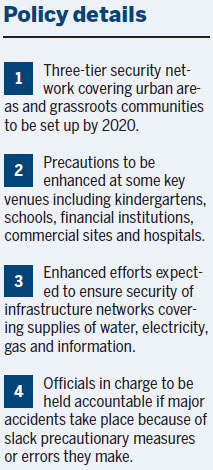 Action is expected soon on tackling preliminary problems "that may lead to deadly incidents or extreme accidents". The guideline adds that "major cases - especially those involving casualties - should be prevented and reduced".
The guideline highlights the use of modern technology such as security video monitoring systems and information networks, stating that video monitoring systems will be increased in public areas.
Tai Yunqi, a professor at People's Public Security University of China, said the new network has been proposed at a time when the anti-terrorism situation remains grim.
The guideline aims to improve efficiency and have an influence on existing public security facilities, he said, adding that the distribution of resources will be more scientific.
Authorities will reinforce police patrols, especially during morning and evening rush hours and in crowded places, according to the guideline.
Security measures for public transportation, including buses, subways, railway stations, airports, ports and high-speed railway lines, will be stepped up to prevent violence, terrorist attacks or "extreme events", the document states.
It also calls on police to intensify criminal investigations to solve deadly crimes or cases that may lead to "extreme situations".
Administration in some key sectors will also be enforced and real-name registration required for hotels, the secondhand goods trade, motor refitting and recreational services, according to the guideline.
A list of items banned from delivery will be extended to prevent crimes being committed through logistics services.
Li Wei, an anti-terrorism expert at the China Institutes of Contemporary International Relations, said precautions should be prioritized and suspects should be monitored.
The document states that all departments must work in a coordinated way to build the social security network in accordance with the rule of law.
The government has vowed to recruit more community volunteers and to reward those reporting serious crimes.
Xinhua contributed to this story.
zhangyunbi@chinadaily.com.cn