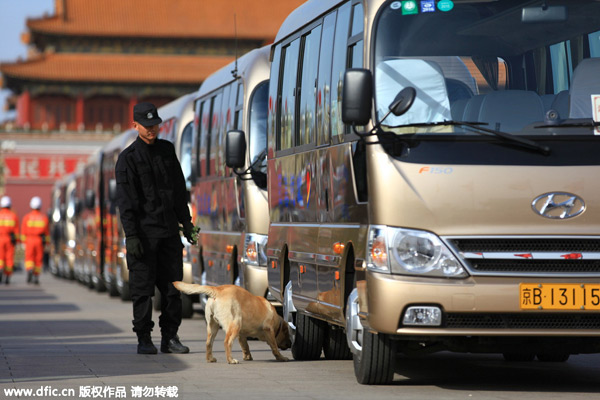 Police inspect coaches used to pick up delegates to the National People's Congress and members of the Chinese People's Political Consultative Conference, China's top political conferences, at Tian'anmen Square on March 8, 2015. [Photo/IC]
A government circular Monday announced China's intention to beef up security on public transport and other public places to "fend off terrorist attacks and individual acts of violence".
The move is part of a larger push to intensify surveillance and security in response to a spate of violent attacks that rocked China in the past year.
The circular, released by the General Office of the CPC Central Committee and the General Office of the State Council, demanded intensified security inspections along high speed railways, and at bus and train stations, metros, airports and ports.
Armed police patrols at transport sites during the morning and evening rush hours will be enhanced, as will patrols at other key public sitesincluding schools, shopping malls, banks and hospitals.
The circular contains 21 notifications aiming to boost the country's public security, including an expanded public safety video surveillance network.
The latest steps also include establishing a national population database linked to ID information and credit records.
In addition, China will require identification when registering at hotels, for trade of second-hand goods, for motor refitting and for "recreation services", Xinhua said, without specifying the type of recreation.
More surveillance cameras will also be installed and increased police patrols will be made in crowded places in rural areas.
On March 1, 2014, thirty-one people were killed and 141 injured in a railway station attack in the Southwest Chinese city of Kunming in Yunnan province.
Following that, on May 22, attackers threw explosives and drove two cars into shoppers at an open-air market in Urumqi, capital of Northwest China's Xinjiang Uygur autonomous region, killing 31 people and injuring 91.
On July 15, a man set off explosives on a public bus in Guangzhou, capital of Guangdong province, killing two passengers and injuring 26.