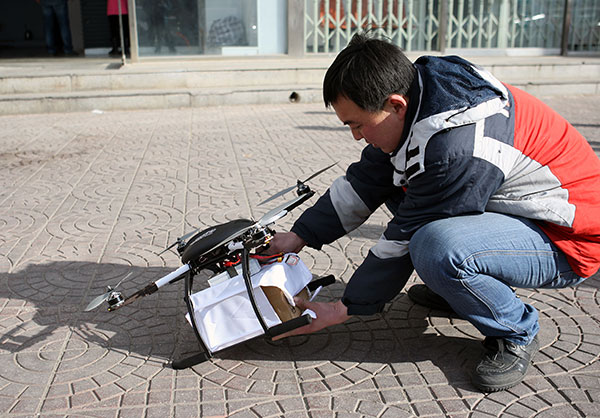 A YTO Express mail service staff member puts a package on a drone for delivery to an address in Beijing in this Feb 4, 2015 file photo. [WANG ZHUANGFEI/CHINA DAILY]
Military companies adapt unmanned craft to win share of market as demand increases.
State-owned defense contractors are racing to convert their military drones so they can grab a share of the lucrative civilian market, according to industry insiders.
"Several years ago, we were only a research studio," said Ma Hongzhong, director of China Aerospace Science and Industry Corp's Unmanned Aircraft Research Institute. "But the company recently expanded it into an institute in order to use the company's cruise missile experience and expertise in drone research."
Ma's company, one of the country's defense giants, previously focused on missiles and multiple rocket launcher systems.
However, as the potential for civilian unmanned aircraft became clear and other defense companies successfully entered the market, it began to allocate substantial funds and engineering expertise to developing drones, he said.
The institute has developed a full family of unmanned aircraft, ranging from piston-powered, low-speed drones to large, high-endurance turbofan-driven versions.
"Many State-owned defense enterprises have dedicated considerable resources to developing drones, and a large number of private companies have also become involved.
"The industry has a very low entry threshold-a flying model can be called a drone and can perform some simple tasks. My company will concentrate on high-end military and civilian drones that have similar designs and equipment."
The company's products can be employed in aerial mapping, resource surveying and pipeline and grid patrols.
"They can also play a significant role in counter-terrorism, riot control and other emergency response operations," Ma added. "Drones can stay in the air for long periods as they carry out reconnaissance and surveillance operations, and can be used anytime, anywhere."
However, transforming lethal military drones for civilian use is not simply a matter of replacing weapons with nonmilitary equipment.
"You must reduce the production and operational costs to a level that clients can afford," Ma said.
Yang Shaowen, a senior manager at Aviation Industry Corp of China's unmanned aircraft division, said many Chinese-made drones are based on military models with sophisticated functions and cutting-edge equipment that are rarely used in civilian operations.
"The unnecessary functions or equipment lead to high production and operational costs and require complex controls," Yang said. "Sometimes a whole team of professionals is needed to operate a single drone, causing inconvenience for users.
"Manufacturers should design drones specifically for the civilian sector rather than simply refitting military ones."
Aviation Industry Corp is the nation's largest aircraft manufacturer and its products account for the bulk of the People's Liberation Army's drone force.
"Our focus in the unmanned aircraft sector will still be on military products, but we have interfaces for civilian equipment on some military drones," Yang said.
Zhang Feng, secretary-general of the Aircraft Owner and Pilots Association of China, said the country will need more than 10,000 civilian drones once the industry is fully developed and regulations are in place.
"The market value of developing, manufacturing, operating and maintaining these drones will reach 50 billion yuan ($8.18 billion) a year," said Zhang.
"About 20,000 drones are in use for civilian purposes on the Chinese mainland. Businesses involved in agricultural pest control, environmental monitoring, geographic surveys, forest patrols, resource exploration and maritime operations have benefited greatly from their use."