Airborne vehicles find increased use for surveys, monitoring and patrol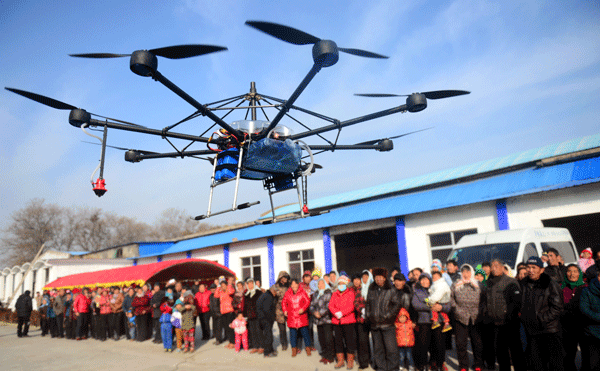 An unmanned aerial vehicle, or drone, is ready to spread pesticide for pest control in Yuncheng, Shanxi province. Li Xiangdong / Xinhua
A huge market for civilian unmanned aerial vehicles, commonly known as drones, is emerging in China, industry observers said, prompting the need for the government to speed up regulation.
"More than 10,000 civilian drones will be needed in China once the industry is fully developed and regulations are put in place," said Zhang Feng, secretary-general of the Aircraft Owner and Pilots Association of China. "The market value of developing, manufacturing, operating and maintaining these drones will reach 50 billion yuan ($8.18 billion)."
There are about 20,000 drones on the Chinese mainland used for civilian purposes, and businesses including agricultural pest control, environmental monitoring, geographical survey, aerial mapping, forest patrol, resource exploration as well as maritime operations have greatly benefited from drones, Zhang said.
Yu Min, an aviation industry analyst in Beijing, said aviation experts he has talked with are optimistic about the sector's future in China.
"We believe that the industry will embrace an exponential growth in the near future and some technologies adopted by civilian drones will even be more advanced than those of military ones," he expected.
Civilian drones have become increasingly popular because they can fulfill tasks that are either difficult or dangerous for human beings, such as supervising forest fires, monitoring floods, detecting nuclear radiation and sampling the atmosphere, according to Yu.
The public has realized the significant roles of civilian drones as they facilitated a host of disaster relief and pollution monitoring operations.
Remote sensing drones, known for their safety and high efficiency, were employed to help with rescue efforts following a mudslide in Yunnan province in July that left 17 people missing.
With the assistance of drones, the environmental watchdog in Wuhan, Hubei province, has found 39 companies that allegedly violated emission rules since March.
The coastal business hub of Ningbo, Zhejiang province, has also resorted to a parafoil drone to scatter smog in airports or ports.
The vehicle, which can carry 80 kilograms of smog-busting agents and stay in the air for three hours, will spray chemicals that freeze pollutants, making them to fall to the ground, according to its developer, AVIC Aerospace.
Its variants can serve multiple purposes such as agricultural seeding, disaster relief and aerial mapping, the company added.
The lucrative business has lured a surging number of Chinese companies into the field, as up to 400 Chinese enterprises are already involved with civilian drones, according to an estimate by the Aircraft Owner and Pilots Association of China.
Attracted by the promising perspective, the Aviation Industry Corp of China, the nation's leading aircraft manufacturer, has chosen Guizhou province as its design and production base for civilian drones, according to Chu Haitao, chairman of Guizhou Aviation Industry Group, a subsidiary of AVIC.
"At present, the civilian drone industry in China is troubled by the absence of national standards, flight restrictions caused by low-altitude airspace control, high operation costs as well as low mobility of ground systems," Chu said.
There are 44 national standards that govern military drones but those for civilian versions are still absent, Chu noted, adding the government is aware of the situation and several departments are drafting guidelines on technical requirements and airworthiness standards.