A booming e-commerce sector sounds like something to cheer for. Shoppers are able to purchase anything while remaining indoors or on-the-go; online sellers, on the other hand, are able to rake in gobs and gobs of cash in a matter of minutes on a good day; and delivery people are able to ride the wave as long as they work hard enough.
But all of this is about to change and for the delivery people, it might not be too good.
Drone deliveries, using remote controlled aerial units to deliver packages, are slowly coming into the picture. This seemingly brilliant idea is supposedly able to expedite delivery efficiency to bring packages to your door within 30 minutes of order placement.
Let's take a look at what the front-runners are in trying to develop drone delivery services worldwide.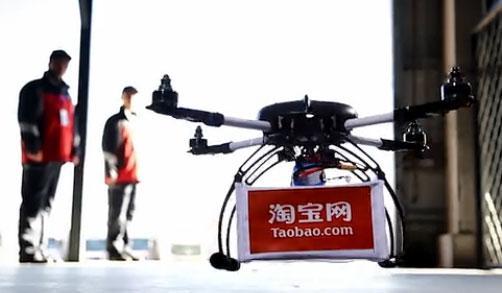 A picture of a drone carrying a parcel with the logo of Taobao.com is seen online. [Photo / xinhua.net]
Taobao.com
Media reports show that Taobao.com, joined by YTO Express, started testing on its drone delivery service on Feb 4. Based on preset destinations and routes, it may only take an hour to get whatever you buy on Taobao.com, the largest online market place in China, according to logistics industry information provider headscm.com.