The excessive use of fertilizers and pesticides is increasing agricultural pollution in China, a senior official said on Tuesday, as the country's agricultural authority launched a five-year action plan to curb pollution in rural areas.
Zhang Taolin, vice-minister of agriculture, told a news conference on Tuesday that the pollution caused by excessive use of fertilizers is increasing in the country's central and eastern areas.
"The problem is more severe in areas cultivating fruits and vegetables, with the expansion of those areas in recent years," he said.
China has emerged as the world's largest producer of fruits and vegetables. It provides 20 percent of the world's fruit and 50 percent of its vegetables, according to the 2013 Statistical Yearbook of the UN's Food and Agriculture Organization.
In the five-year program, made public on Monday, the Ministry of Agriculture said it is targeting more than 90 percent of farmland in China using formulated fertilizers. It will implement soil tests to determine how much and what type of fertilizers are needed, and has set a target of a zero increase in the use of fertilizers and pesticides by 2020.
Qian Keming, chief economist at the Ministry of Agriculture and a political adviser, said at this year's annual session of the National Committee of the Chinese People's Political Consultative Conference that China uses about 35 percent of the world's fertilizers, more than the amount used by the United States and India combined.
The plan sets a target efficiency rate for fertilizers and pesticides of at least 40 percent by 2020.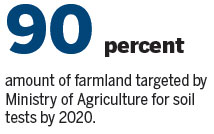 The current efficiency rate of fertilizers is about 35 percent, which is 10 to 20 percent below the average of developed countries, Qian said.
Zhang said the country is also trying to speed up the development and promotion of low-toxicity pesticides and encourage the use of environmentally friendly ways to control pests.
The country currently uses more than 320,000 metric tons of pesticides, still above the targeted 300,000 tons, he said.
The "nonpoint source" pollution in rural areas, which refers to both water and air pollution from diffuse sources, is a key target.
A major source of nonpoint pollution in rural areas is animal waste from livestock farms, he said.
Pig farms across China have more than 700 million pigs, according to the ministry.
"The large-scale pig farms could evolve into sources of major pollution if waste is handled improperly," Zhang said.
The authority is targeting more than 75 percent of large pig farms to introduce special treatment facilities for waste.
xuwei@chinadaily.com.cn