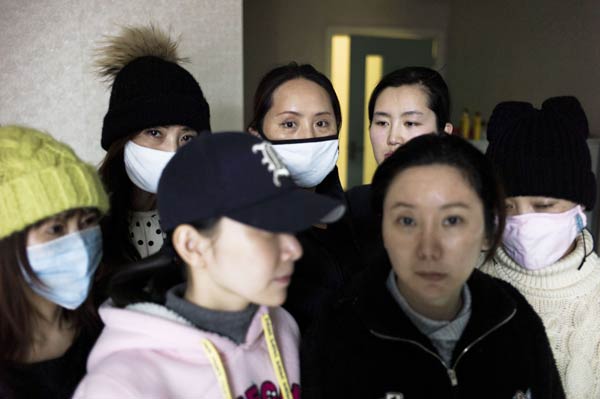 Women who say they have been left disfigured by shoddy procedures in South Korea wait in a room at a clinic in Beijing. [Photo/Agencies]
Demand for cosmetic surgery is booming across Asia, especially in China. However, for some patients the fleeting dream of physical perfection has turned into a prolonged nightmare, as Zhang Yi reports.
Every year, thousands of Chinese women travel to South Korea for plastic surgery in the hope it will produce the "perfect" appearance and transform their lives.
For some, their wishes are granted, but many find themselves distraught, lacking confidence and even suicidal as a result of badly performed operations and the side effects of the medication they have been prescribed.
Now, three of those women have banded together to raise awareness and warn potential patients of the risks they may face if they choose to go ahead with the procedures.
The women said they feel they were duped, and the deception is almost as hard to bear as the pain they suffer every day because of their disfigured faces.
Jin Weikun, 27, a professional style consultant, said she had been reduced to the status of a laboratory mouse after a series of failed operations, including "face contouring" and two procedures to alter the shape and size of her breasts.
Jin originally had breast reduction surgery at a clinic in Taiyuan, her hometown in Shanxi province, but was unhappy with the results because she felt the surgeons had left her breasts asymmetrical. When she complained, the clinic said it was unable to repair the "damage".
Jin researched operations designed to rectify asymmetric breasts, but was wary of proceeding because of the risks involved. However, her hopes were rekindled when she saw Bucket List, a TV show aired by KBS, South Korea's national broadcaster, which told the story of a woman who had successfully undergone surgery to correct a botched breast operation.
In late 2013, Jin saw ads canvassing participants for a purported sequel, Bucket List 2. The producers, who claimed to be working in association with Shanghai Television and clinics including JW Plastic Surgery Korea, were offering free surgery to 24 people unhappy with previous cosmetic procedures. Jin was convinced that the show would provide an opportunity to have the surgery that would turn her life around again.