In today's trending, "Wi-Fi" clouds appear in sky, resignation letter inspires, man receives welcome misdirected calls and traffic police guards injured dog.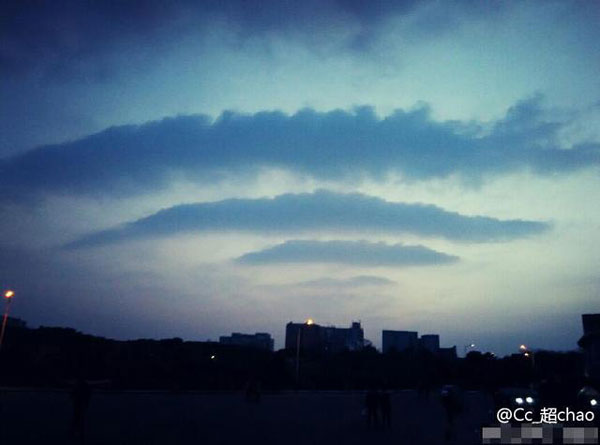 This photo shows a cloud giving a "Wi-Fi" look in the sky.[Photo from Sina Weibo]
Stunning 'Wi-Fi' cloud spotted
You can connect to Wi-Fi just about anywhere these days, but could you connect to a Wi-Fi in the sky? One college student spotted the Wi-Fi symbol as formed by clouds in Xiangtan, Hunan province, causing a stir on the Internet.
The "Wi-Fi" cloud was spotted by a college student named Shi Chao, at about 7 pm on April 10, on his way to a study room, according to the Sanxiang Metropolis Daily.
As an amateur photographer, Shi was attracted by the incredible image and took a photo with his cell phone.
Sina Weibo user @Hunan University of Science and Technology weibo association posted, "Have you connected the "Wi-Fi cloud" yet? I'll not tell you the password is."
The unusual cloud formation is actually called altocumulus, and it's often seen when the sun shines after rain, said the Xi'an Meteorological Bureau.
In our next story, a counselor's resignation letter inspires others.