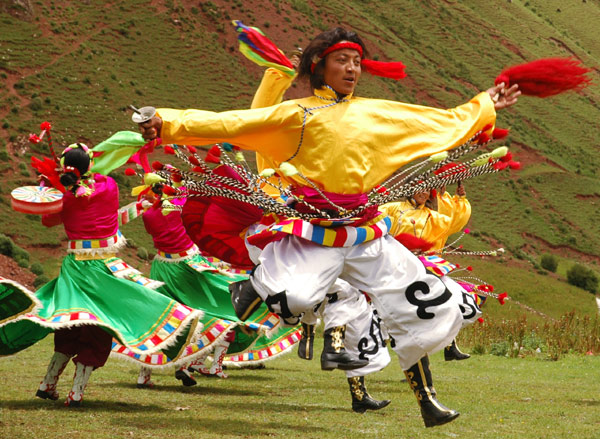 Young people perform the ralpa dance in Qamdo prefecture in the Tibet autonomous region. The dance is one of eight national-level intangible heritage items in the region. Provided to china Daily
Central and local governments are pouring money and expertise into the protection and preservation of traditional art forms in the Tibet autonomous region, as Hu Yongqi reports from Qamdo, and Da Qiong from Lhasa.
Even though night had already descended on Beijing, at 9 pm on a summer evening the sun was still shining over the plateau of the Tibet autonomous region. In Qamdo prefecture, the largest city in the east of the region, a huge screen in Liberation Square played traditional music to more than 1,000 people who formed a number of concentric circles and began a traditional dance.
As the dance, known as the gordro, progressed, some people left the circle, only to be replaced by others. Age was irrelevant, young and old enjoyed the simple pleasure of dancing together. Tourists took photos to record this distinctive local custom, which the locals perform every day, even during rainstorms. Nothing dampens their enthusiasm.
However, for many years, people in overcrowded Qamdo were unable to find an open space to practice the dance, so they crowded around the fire pits to entertain themselves by having a few drinks and singing.
Then, in 2012, the prefectural government built a 1-hectare square to accommodate the dancers, and this simple art form was revived with increasing vitality among the locals and tourists.
Gordro dancer Nyima Tsering walked among the crowd, ready to provide guidance to anyone in need. When the city began a reconstruction project two years ago, Nyima Tsering and his troupe took turns leading the dancing in the square every night, which contributed greatly to the popularity of the traditional art form.
"The dance is easy to learn and doesn't really matter where it's performed. It won't die as long as we can maintain the very essence of grassroots art, which is to get people involved," said the 36-year-old.
Last year, the central government added eight of Qamdo's local art forms, including the gordro dance, performances on a six-stringed lute-like instrument called a biwang, which is also the name of a local dance, and specialized techniques such as those used in the extraction of salt, to a list of programs to protect "intangible culture" - expressions of culture passed down from generation to generation. The regional government listed a further 15.
In the past five years, the prefecture has spent 2.6 million yuan ($418,000) promoting the local cultural heritage, according to the Qamdo Administration of Culture.