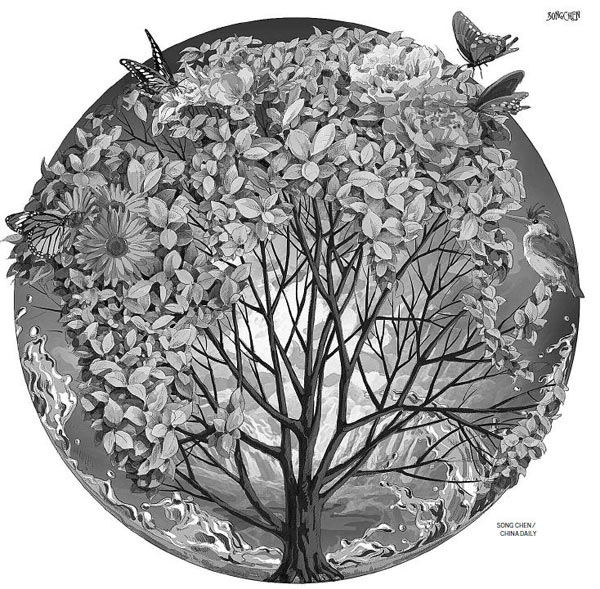 Chinese companies working in Africa are finding that environmental requirements also offer huge opportunities, as Li Lianxing reports in Nairobi.
A bottle of water stands on the desk in an office in the Ethiopian capital, Addis Ababa. The water is so clear that it is barely imaginable that a short while ago, it was running through a river into which flows all the wastewater from a local tannery.
The fact that the water, in an office of the Sululta environmental authority, is regarded as the purest river water in the region is a feather in the cap of the tannery, proud that its processed waste water has met the requirements of local environmental regulations and is harmless to the environment.
But making that happen was no easy task, says He Ming-liang, president of China-Africa Overseas Leather Products SC in Sululta, who says local people are keenly aware of environmental protection and are even willing to forfeit economic growth if it means having clean water.
"So we have worked hard to improve our wastewater processing procedures since we opened the tannery in 2010. It's one of the biggest challenges I have had since I entered this industry 29 years ago."
Paying heed to the environment is expensive, time-consuming and sometimes full of ambiguities because of indifferent law enforcement, but it is the only way to survive in the long run, He says.
His assessment boils down to this: If Chinese investors in Africa do not handle environmental issues correctly, their businesses are likely to be deemed harmful and be short-lived.
"We are improving conditions in China, so it's logical that we should be doing the same in Africa," he says. "With nearly four years' experience, we aim to set the tone for the tanning industry in Ethiopia in environmental protection."
China has paid a high environmental price for its economic growth over the past 30 years, and unprecedented levels of air pollution in big cities in the past two years have only served to increase alarm over damage caused. Government, business and individuals are now deadly earnest as they try to do something about it by embracing green solutions.
Bert Fabian, program officer of the Division of Technology, Industry and Economics at the United Nations Environment Programme, says China's phenomenal economic growth has driven dizzying rates of urbanization, driving up demand for energy to power factories and homes and putting tens of millions of cars on the road.
"This rapid growth in cities and vehicles and huge energy demand may have overwhelmed national and city authorities to effectively regulate and address environmental problems, particularly air pollution," he says. "As expected, the environment and public health bore the brunt of air pollution."