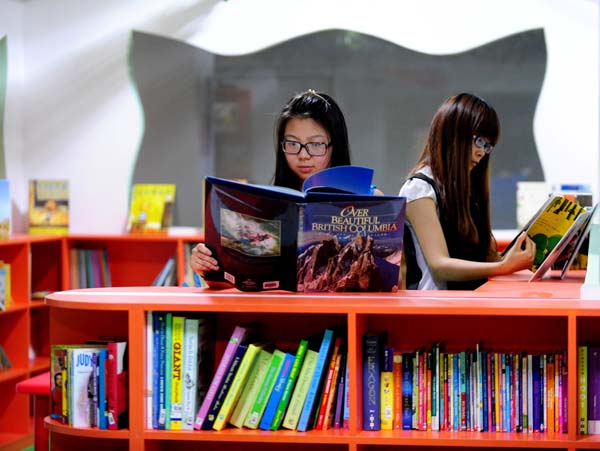 Readers pick up books at a library specializing in English publications. The library was launched by a Chinese-Canadian in Shenyang, Liaoning province, and is so far the largest of its kind in the city with more than 50,000 original English publications. ZHANG WENKUI / FOR CHINA DAILY
Physical bookstores in China look set to live out their last days even as their cyber counterparts expand on the back of imported offerings, reports Yang Yang in Beijing.
On a Saturday morning in Beijing's Wangfujing Street, the Foreign Language Bookstore sported a banner to promote its "big summer exhibition of imported books".
Lost in translation
For years, the Chinese market has been importing more books than exporting them.
In 2012, the country imported 16,115 book titles, mostly from English-speaking countries, and exported fewer than 7,600 titles, according to the State Administration of Press, Publication, Radio, Film and Television.
But many consider the quality of translations in China to be a major obstacle in accessing these imported works.
"Most of the translated versions of books can be rough," said Zheng Xiaoqian, a doctoral candidate of English literature at Nanjing University.
Zheng downloaded the Chinese version of Julian Assange: The Unauthorised Autobiography.
"The translation is generally OK, but I still want to read the English version because I don't trust the translator," she said.
Li Yi in Shanghai is a self-professed bookworm, spending much of his free time reading books, including a large number of imported books.
"I learned that there are only about 80 to 100 reliable translators in China who are capable enough to carry out the tough work," said the 40-year-old lawyer.
Zhu Jisong, an English teacher at Fudan University, said that the Chinese versions of many foreign books are generally of bad quality.
"It's a vicious circle. The translation is bad so the market response is bad, which means that the book cannot sell well, and the payment for translation won't be high as a result. With such a low payment, you cannot find a good translator," he said.
The general rate for an English-to-Chinese translation is 80 yuan ($12.90) for every 1,000 English words, and a fast translator can process about 500 words an hour if the original book is not so literary and the language and flow are easy enough to follow. The Chinese government imposes a 20 percent tax when the payment is higher than 800 yuan, which is high compared with current wages and the cost of living.
"There are other reasons. Students with a good command of English usually go to transnational corporations to work and they won't use their spare time to do translation work. Those whose English is not so good need to do translations to make money, which directly results in the low quality," Zhu said.
"Theoretically, English teachers in universities have the ability to translate books, but translation works are not included in their academic assessment so they are not willing to do extra work that is not helpful in assessing their academic level, which is in turn closely connected with their salaries."
yangyangs@chinadaily.com.cn
Staff members on the ground floor tried to sell an Oscar-movie collection to customers. The most eye-catching shelves stocked best-selling novels of blockbusters such as The Hobbit and Twilight; best-sellers like Eat, Pray, Love and The Time Traveler's Wife; and classics like Jane Eyre and Romeo And Juliet.
At the nearby Wangfujing Bookstore, posters pointed to imported offerings on the third floor. Most parents and children gathered on the second floor, where teaching materials were sold, but the third floor tried to attract them with "an exhibition of imported books for children".
The summer holidays seem to provide a good opportunity for physical bookstores like the Foreign Language Bookstore and Wangfujing Bookstore to draw more customers. Students are expected to have more free time to browse the shelves and parents usually hope their children can improve their competitiveness in crucial exams by reading more books and doing more supplementary academic exercises.
But few readers could be seen at the two bookstores on the weekend.
On the third floor of the Foreign Language Bookstore with its specially imported books, a lone fourth-grade boy from Suzhou, Jiangsu province, seemed engrossed in an English book about making the US movie Diary of a Wimpy Kid.
Ma Duan, a material science graduate student from Beijing University of Technology, browsed a shelf of Ernest Hemingway books at Wangfujing Bookstore.
"Although I read quite slowly because I have to check words that I do not understand, I like reading original books, and English is very important for my studies and career," he said.
"Occasionally I come here for a look but I usually buy books from online stores like Amazon and Jingdong," Ma said.
Going online
The dearth of customers seems to reflect the sunset industry of physical bookstores even as their online counterparts stand poised to take over.
Latest statistics from the State Administration of Press, Publication, Radio, Film and Television showed that in 2012, China imported 1.5 percent less foreign books compared with 2011.
As one of the leading online shopping platforms in China, Jingdong started selling imported English books in June 2011. Sales in 2012 grew by 200 percent compared with those in 2011 and 2013.
On Jingdong's online shopping system, children's books, inspirational self-help books and novels of hot movies such as Twilight top the English sections, said its spokeswoman, who declined to give her name.
Amazon, the largest online bookstore for imported books in China, stocks almost 6 million imported books for the Chinese market. Book categories include literature, business, English study and children's books. Book selection has expanded by almost five times since 2010.
Amazon China also sells books in French, Spanish and other languages.
Academic books previously formed the largest part of Amazon's sales, but novels, children's books and dictionaries have become increasingly popular.
The online shopping giant has also seen the expansion of reader groups from scholars and foreign businesspeople in China to students, financial managers and common company employees.
As Chinese people are generally improving their language capability, imported literature has also become one of the largest sections in sales. Young people, especially college students, are reading more English novels, according to Amazon research. The US is the largest imported source.
But its largest growing section is imported children's books, with Chinese parents placing more emphasis on their children's English ability.
The best-selling list of business management books, becoming similar to those in source countries, also indicates that their readers expect to acquire firsthand original business management knowledge.
Jingdong predicts that the sales of imported books will continue to grow.
"More people are learning languages, not only English, but also Japanese and French, so they will hope to see more imported books. Japanese books are quite popular," Jingdong's spokeswoman said.
"In terms of publishing quality, we can see that the publishing industry in the West is more advanced and professional. As a result, if readers can understand the language and accept the pricing, they will tend to buy imported books. Moreover, the renminbi exchange rate has been growing in recent years and Chinese people have stronger purchasing capacity; pricing is not one of the most important considerations for Chinese readers," she said.
"The time needed for our import sources to fill our orders are shorter, so readers can get their goods more quickly and they really have many choices," she said.