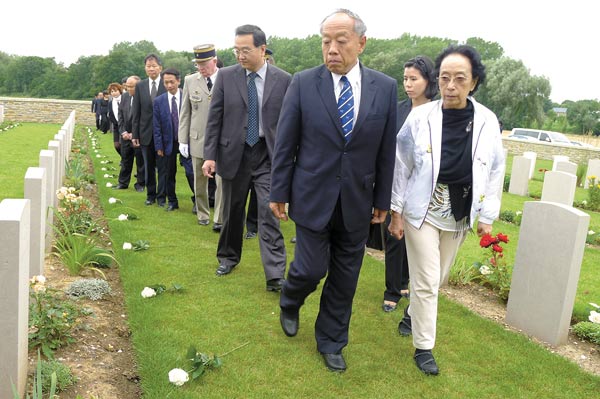 Former Chinese foreign minister Li Zhaoxing visits a cemetery of Chinese workers who served on the Western Front during World War I in Noyelles-sur-Mer of France on Tuesday. Li was in France to attend events that celebrate the 100th anniversary of WWI. TUO YANNAN / CHINA DAILY 
Renewed interest in Chinese workers' contributions during WWI helps shed new light on China-Europe relationship, reports Cecily Liu.
Many people have forgotten, or are even unaware, that 140,000 Chinese workers served on the Western Front during World War I. These workers' contributions as manual labor during the war were significant, scholars say. Most of them were volunteers, farmers in search of better wages. One hundred thousand of them formed the Chinese Labour Corps under British forces, and 40,000 were employed by French factories and farms.
Chinese intellectuals then believed that the contributions of the Chinese workers would even give China an added advantage during negotiations at the Treaty of Versailles following the war, but their hopes turned out to be futile.
After the war, the contributions of the Chinese workers were largely forgotten by both Chinese and Europeans.
It is only in the past decade that academic interest in the subject began to grow. Amid the run-up to the war's centenary events, many believe that the focus will help shed new light on how China should view its relationship with Europe.
"This is about our history meeting your history. I think that's important because having a common history creates an opportunity for meeting and discussion," said Dominiek Dendooven, a senior curator at the In Flanders Fields Museum in Ypres, Belgium.
"Secondly, this is an important part of our history and your history. It is a major influx of Chinese immigrants that directly links China and Belgium, and is an important moment in our history," Dendooven said.
To remember this part of history, In Flanders Fields organized an exhibition in 2010 which showed visitors the story of the Chinese workers' arrival in Europe, their lives there and what happened to them after the war ended.
The exhibition, from April to August 2010, spanned 450 square meters and attracted 70,000 visitors.
Author Mark O'Neill has also written a book about the forgotten Chinese laborers of World War I, which was published by Penguin as part of its collection of new books on the war.
Similarly, independent film producer Helen Fitzwilliam made a short film and wrote an article on this issue, which was presented at London think tank Chatham House in June.
A new book on Chinese overseas labor and globalization in the early 20th century, written by historian Paul Bailey, will be published in November.
Dendooven said the revival of interest on Chinese workers' roles during World War I started around 2004 and 2005, and coincided with the re-emergence of China on the world stage.
Bailey said one reason for Western countries' increasing willingness to revisit this part of history is the tourism element associated with historical events.
For example, the French government is keen to promote towns like Montague, where many of the Chinese workers lived, and where they later came into contact with Chinese students studying in France at the time.
Bailey said that it is also in line with the Chinese government's intention to depict China as a responsible rising global power in recent years.
"It fits in with this wider agenda of promoting China's globalization and positive interaction with the world," Bailey said.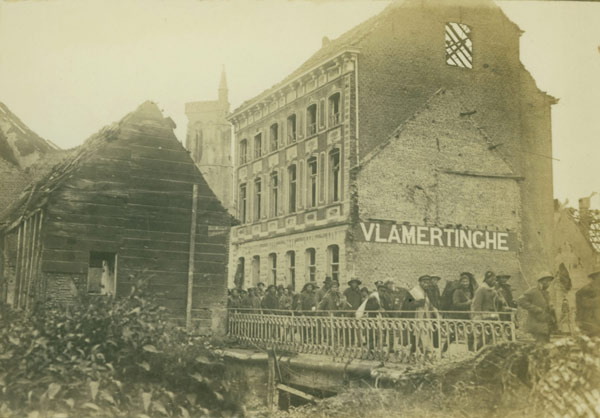 A unit of the Chinese Labour Corps passing through the ruined village of Vlamertinghe near Ypres, Belgium. 

[Photo provided to China Daily]