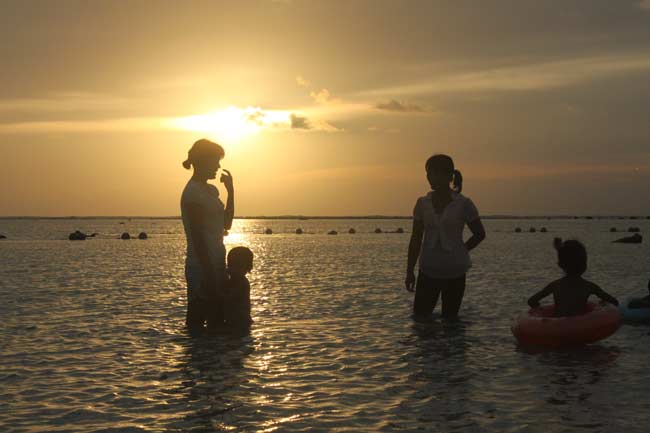 Residents of Yongxing Island relax on the beach on the evening of July 25. The island comes to life in the evening hours after scorching sun in the day. PHOTOS BY PENG YINING / CHINA DAILY  

Sansha's islets have served as landmarks for generations of Chinese fishermen, reports Peng Yining in Sansha, Hainan province.
Sansha timeline
July 24, 2012
China officially sets up the city of Sansha on Yongxing Island in the southernmost province of Hainan. The city government is located on the 2.13-square-kmYongxing Island, the largest island in the Xisha Islands group. Xiao Jie becomes the city's first mayor.
August 2012
Ferry services between Yongxing island and Hainan's Wenchang city open to the public. Four times a month, the ferry travels 15 hours, or 180 nautical miles, between the two cities, transporting 66,000 people and 28,000 metric tons of supplies in the past two years.
September 2012
Sansha starts to build its airport.
May 20, 2013
Ten Sansha residents receive their new ID card, with "Sansha" as their place of residence. So far, the Sansha police department has signed out 210 Sansha ID cards.
July 19, 2013
Sansha's first and only hospital opens to the public. It has since been providing medical services to people on Yongxing Island and islets in the South China Sea.
September 2013
Sansha residents and its government rescue 14 fishermen of Guangdong province who were hit by a typhoon. More than 350 people and 150 boats were involved in the rescue mission.
February 2014
Fishermen settlement project begins. It includes constructing 19 residential buildings, which will be home to more than 1,000 locals.
March 2014
Garbage disposal system launched. All garbage that cannot be disposed on islands will be collected and gathered at Yongxing Island before being shipped to Hainan.
April 2014
Power grid system on Yongxing Island completed.
June 14, 2014
Sansha starts building its first school on Yongxing Island. Sansha will have a kindergarten and an elementary school when the project is completed.
July 2014
Seawater desalination project completed on all islets in Xisha. The project largely solves one of Sansha's biggest problems - the lack of fresh water. It also protects the environment by reducing the use of groundwater.
Editor's note: This is the sixth in a series of special reports in which our reporters will travel the length of China's 18,000-km-long coastline to detail the lives of the people whose existence is dominated, and often facilitated, by the waters that stretch from Bohai Bay in the north to the Zengmu shoal in the south.
After a storm washed him ashore on Yongxing Island 30 years ago, Zheng Youbai had to survive on the deserted spot in the South China Sea like a modern-day Robinson Crusoe for a month until a fishing boat rescued him.
"I ate fish, drank rainwater and slept in a shack I made from driftwood," said the 56-year-old fisherman from China's southernmost province of Hainan.
"I still remember shivering in the shelter at night. The woods were so spooky in the dark that they seemed ready to devour me anytime."
After the incident, Zheng kept his distance from the island every time he passed it.
"It had no port, no electricity. Nothing," he said. "Who would have thought it would become the most habitable island in the South China Sea?"
In July 2012, China established Sansha city, with its government seat on Yongxing Island, to administer the Xisha, Zongsha and Nansha islands and their surrounding waters in the South China Sea.
Over the past two years, the city has set up all the political structures for a prefecture-level city - the formation of the City People's Congress, a Military Garrison Command and the grassroots Neighborhood Committees.
It has also pushed forward more than 30 infrastructure projects, including the Yongxing airport, a school, a hospital and water purification facilities.
"Life on this island has changed greatly and it is developing at an amazing speed," said Zheng, who has become a permanent resident of the island of Yongxing, which means "eternal prosperity".
"I never thought I would call Yongxing Island my home, but now it is," he said.
After sailing for 15 hours from Hainan's coastal city of Wenchang, visitors could see the palm-covered Yongxing Island rising from the sea. A white concrete road connects the government building, post office, hospital and Zheng's fishing village.
"Yongxing Island is very close to our fishing area. As life here is getting more convenient, we moved from Hainan's Wenchang city," Zheng said.
In his three-bedroom wooden home, Zheng's 12-year-old grandson was watching SpongeBob SquarePants, a US animated television series which was brought to China in 2006.
Since the establishment of Sansha city, television signals have been available on the islands and brought children like the fourth-grade boy tremendous joy.
Sansha also started to build its first school on Yongxing Island on June 14. When the project is completed, Sansha will have a kindergarten and an elementary school. That means Zheng's grandson will not have to go to school in Hainan or only be able to stay with his family during vacations.
"There's also a residential project going on," Zheng said. "Soon we will move out from our wooden home to live in a concrete apartment."
"This is the first time China is establishing a prefecture in the South China Sea so there is no precedent to follow," Sansha Mayor Xiao Jie said.
"But improving local standards of living has always been the priority despite the formidable challenges," he said.
Landmark city
As China's newest city, Sansha administers more than 280 islets and shoals. But it is also the prefecture-level city handling the smallest land area and population.
Yongxing, the biggest island under Sansha, is about 2 square km. The total land area of Sansha is about 10 square km.
For generations, Sansha's islets have served as Chinese fishermen's landmarks and post houses. But the harsh tropical weather and lack of easy transportation and fresh water have hindered the development of the local economy.
"We used to collect rainwater," said Lin Youhui, a 63-year-old fisherman who moved to Yongxing 13 years ago.
"Sometimes I found dead rats soaked in the cistern, but I didn't have any other choice."
After the city's establishment, Lin dug a well with help from the local administration. Desalination equipment has been placed on all islands in Xisha. With a power grid set up on Yongxing this year, the island alone can desalinate 400 metric tons of seawater at a time.
Making a living by fishing, Lin now lives on Yongxing with his son, daughter-in-law and 19-year-old grandson. "My family makes more than 100,000 yuan ($16,200) a year," he said.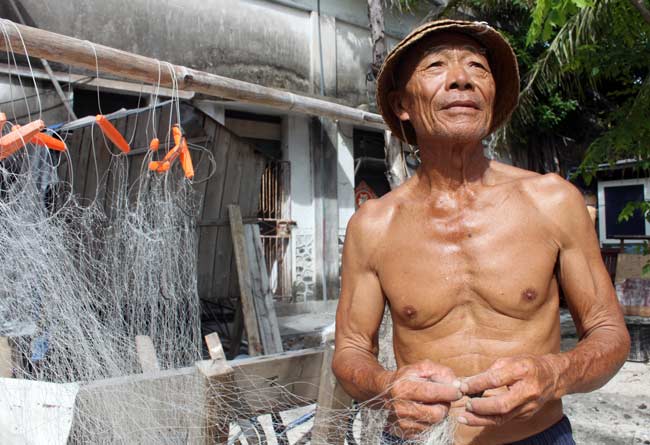 Lin Youhui, 63, trims his fishing net on July 24. The fisherman has been living on Yongxing, an island of Sansha, Hainan province, for 13 years. PENG YINING / CHINA DAILY