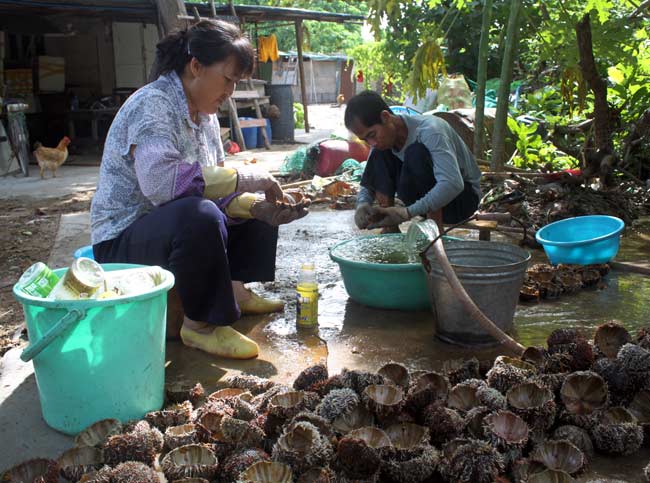 He Zhengfei, 51, and her husband clear sea urchins on July 25. The couple moved to the island seven years ago from Zhanjiang, Guangdong province, and now earn a living by processing seafood products and working part time at construction sites. PHOTO BY PENG YINING / CHINA DAILY
"Two years ago we made 20,000 yuan a year if we were lucky. We would have left the island if not for the development."
The prefecture has also adopted favorable land and fiscal measures to attract investment in the local economy.
Fishing out in the South China Sea
By Deng Dayong
Deng Dayong, 54, fisherman and resident on Jinqing Island
I have been fishing since I was 15. I learned the skill from my father and he got it from his father. For many generations, my family has been fishing in the South China Sea.
I was born and raised in a fishing village in Tanmen township of Qionghai in Hainan. Being a fisherman is the fate of most people in my community, but it is strenuous and sometimes dangerous.
Eight years ago, my boat encountered a storm. The waves were at least 7 meters high, smashing on our deck. Four fishermen and I hid in the pilot house. The deck was rolling so hard that we had to hold on to something to avoid falling into the water, which means certain death.
For 10 hours, the time the storm lasted, nobody moved or even talked. Everyone's face was pale.
Since then, I've started to think about moving to an island closer to the fishing area. It takes about two days to sail from my home village to the fishing area in Xisha.
After years of sailing in the ocean, I am familiar with every islet in Xisha. For fishermen, islets are life-saving oases in the ocean.
Living on an island saves me some time but it wasn't easy, especially eight years ago. There was no electricity, no fresh water, nothing. We made box-shaped shelters with wooden boards. Without enough materials, the boxes were thin and fragile. But it was OK. After every typhoon, we had to make new boxes anyway. One time the wind ripped the walls off my shelter while I was in it. I had to run into other people's boxes. That was scary.
But now we have concrete houses, television sets and mobile signals.
Deng Dayong was talking to Peng Yining.
More than 50 companies are operating in Sansha, covering finance, logistics, entertainment, agriculture and fishery.
At the end of last year, Sansha collected 2 million yuan worth of taxes. The figure hit about 5 million in the first half of 2014.
Despite the city's rapid progress, the biggest challenge for Sansha is still the lack of basic infrastructure and transport. Most of its islands are more than 100 nautical miles away from Hainan and are heavily dependent on supplies from the outside.
He Zhengfei has been living on Yongxing Island for seven years. The 51-year-old migrant worker from Guangdong province and her husband earn a living by catching sea conches and urchins. Every kilogram of urchin meat brings her 20 yuan and they can save about 20,000 yuan a year to keep her son in college, she said.
"We can make the same amount of money working in Guangdong, but the living cost is much lower on the island. There is not much to buy and we don't need to buy many things," she said.
"Since the city was established, we have had fresh vegetables shipped from Hainan every week. I am pretty satisfied with my life in Yongxing."
More support
For He, the only problem of living on a small island is loneliness. As the only Cantonese couple in the village, He and her husband keep four dogs.
Like many sleepy fishing villages in tropical waters, Yongxing saw few people out during the day. Villagers were either fishing at sea or napping in hammocks under the shade.
But as the sun went down, the white sandy beach started to host children running and swimming. Mixed with music blaring from the street barbecue stands, the sound of television shows rose among the wooden homes and gave the village a vitality that it did not have during the day.
Deng Dayong, a 54-year-old fisherman, has been living on Jinqing Island for 13 years.
The administrative committee of the Yongle islands is located on Jinqing, which receives more than 80 fishermen every year and has about 10 permanent residents.
"It takes only 20 minutes to walk around my island. When I first arrived here, there was nothing but sand and bushes," Deng said.
"Now we have fresh water, electricity, television signals and even karaoke equipment," Deng said. "The island has become a temporary home for people fishing in the far seas."
Deng added that the infrastructure on many islands still needs to be improved.
"My two sons are fishing farther out south in the waters and their islands suffer from a harsher living environment. Even on my island, people need to travel four hours by boat to Yongxing if they are sick because of the lack of medical facilities," he said.
"We still need greater support."
Contact the writer at pengyining@chinadaily.com.cn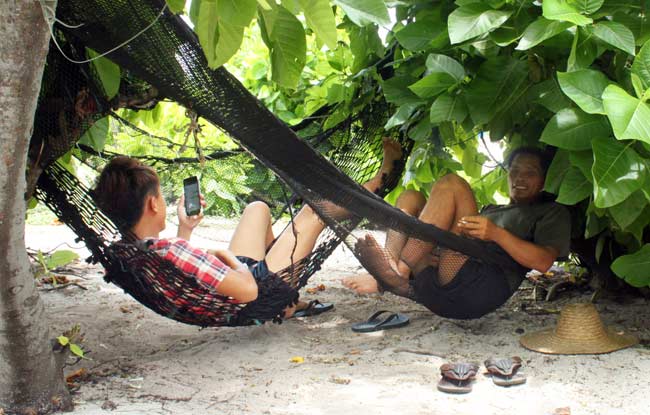 Deng Dayong (right), a 54-year-old fisherman, takes a rest on July 24. A nap in the shade is a common way of relaxation for local fishermen. PHOTO BY PENG YINING / CHINA DAILY