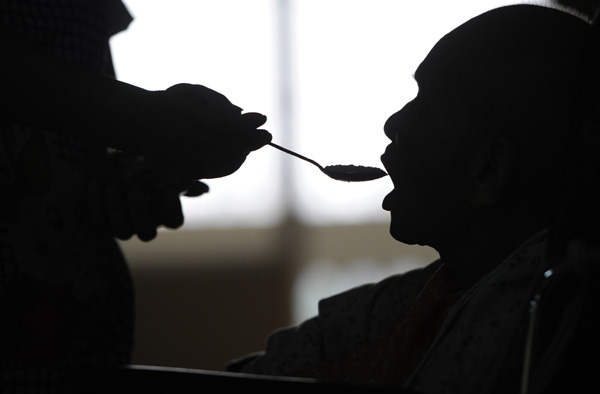 An employee at a nursing home in Zhongshan, Guangdong province, helps a patient with dementia eat in September 2013. Ye Zhiwen / for China Daily 
Alzheimer's disease is threatening the world's largest elderly population, Yang Wanli reports.
About Senile Dementia
Dementia includes a group of symptoms - including loss of memory, judgment, language and other intellectual functions - caused by the permanent damage or loss of the brain's nerve cells or neurons.
The cause of the conditions can be one or more of several diseases. Alzheimer's disease has proved to be the most common cause of dementia in people over the age of 65.
Statistics from the Alzheimer's Foundation of America showed that about 60 percent of all dementia patients have been proved to have Alzheimer's disease through medical testing.
Other common causes of dementia are vascular dementia, caused by stroke or blockage of blood supply, and dementia with Lewy bodies (small, round clumps of normal proteins that - for unknown reasons - become abnormally clumped together inside brain cells).
Other types of dementia include alcohol dementia, caused by sustained use of alcohol; as well as trauma dementia, caused by head injury.
The symptoms and progression of dementia vary with the location and the number of damaged brain cells.
Each type of dementia is characterized by different pathologic or structural changes in the brain. Some types progress slowly over the years, while others may result in a sudden loss of intellectual function.  
When Xie Weiying noticed her father losing his memory and suffering from similar lapses in his judgment and language ability, she thought it was just a sign of his old age.
But the symptoms worsened. In 2008, Xie's father, then 77, was diagnosed with Alzheimer's disease.
"Until my father was diagnosed to have Alzheimer's, I never thought that his condition was a disease," said Xie, 55, from Xi'an, capital of Shaanxi province. Her father died last year.
In early July, Beijing Normal University professor Li Xihui was riding a bike home before his wife reported that he was missing. The university offered a 50,000 yuan ($8,100) reward to anyone who could locate the professor. Three days after the police received the report about Li missing, a sanitation worker found him. The 57-year-old professor's plight drew widespread attention.
The two cases are just part of a major challenge facing the country as its population ages. Many Chinese have associated the signs and symptoms of Alzheimer's with the natural process of aging, but more are realizing that the disease can be managed even if there is no cure for it.
Statistics from the Ministry of Civil Affairs showed that the number of Chinese citizens aged 60 and above will reach 250 million in 2020. That means that 17 out of every 100 Chinese will be over 60 by then.
A research paper by MIT AgeLab, an organization under the US university that mainly translates technologies into practical solutions that improve people's health, showed that a quarter of Asia's population will be elderly people aged above 60 by the end of 2025. Similar conditions are expected to be faced in Europe, where the number of elderly will climb from 19.8 percent of the population in 2000 to 28.8 percent by 2025.
"An aging society can be followed by many problems and the most crucial one is that of chronic diseases such as Alzheimer's," said Fang Yiru, director of the Shanghai Mental Health Center.
"China's elderly population, which exceeds 100 million people, is the largest in the world," Fang said.
The current prevalence of Alzheimer's in China is about 5 percent in people aged over 65, Fang said. But the rate soars dramatically among people aged over 80, to 20 percent. The World Health Organization estimated that Alzheimer's patients in China will hit 11.7 million in 2020, which means that one out of every 10 Alzheimer's patients worldwide will be Chinese.