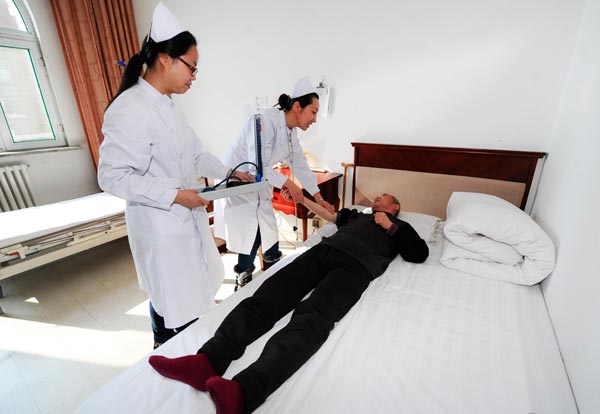 Two medical workers check physical conditions of an elderly at an old folks home in Changchun, Northeast China's Jilin province on Feb 27, 2014. [Photo/Xinhua]  
BEIJING - More than 131.6 million Chinese are now over the age of 65, about 9.7 percent of the population, according the Ministry of Civil Affairs on Tuesday.
The population of those at or above 60 hit 202 million by the end of 2013, nearly 15 percent of the total population. According to international standards, a country or region is considered to be an "aging society" when the number of people at and above 60 reaches 10 percent or more of its total population.
China's population above age 60 is expected to exceed 300 million by 2025 and hit 30 percent by 2050.
China has more than 42,500 nursing centers for the elderly, with about 5 million beds. The number of beds is nearly 19 percent up from a year earlier, but there are still only 24.4 beds for every 1,000 senior citizens.
In 2013, China spent about 430 billion yuan (69 billion U.S. dollars) on social services, a year-on-year increase of about 16 percent and about 3.1 percent of total public expenditure.
China has nearly 1.6 million social service organizations, up 6.8 percent from 2012. Those organizations employ nearly 12 million people and their fixed assets are worth about 681 billion yuan, or nearly 1 percent of the tertiary industry total, according to the report.