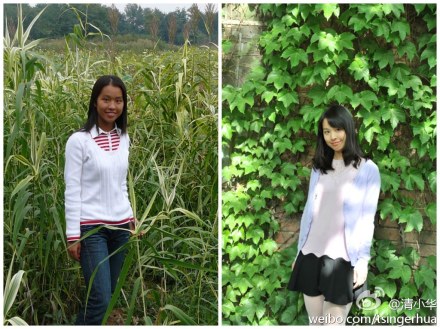 A photo combo posted by the admission office of the Tsinghua University on its micro blog shows the big change Lin Li undergoes during her time on campus. [Sino Weibo]

Before-and-after pictures allegedly showcasing the big changes Tsinghua University students undergo during their time on campus have earned a flunking grade from China's skeptical netizens.
The images, which were originally posted by an obviously proud graduate student, backfired on the Tsinghua University after its admission office fowarded some of the photos on Sina Weibo, a China's Twitter-like micro blog service, on June 14.
By 6pm on Tuesday, the topic was the hottest search on Sina Weibo, with more than 113,000 related posts, many of which called the school to account for using the pictures to flaunt their students' seemingly magical transformations and higher social status.
The university's admission office defended their action, saying the photos truly reflect the changes brought about by a Tsinghua education. The office denied any motivation to use the photos to poach potential students or show off a pool of attractive alumni.
The controversy ensued after a female student called Lin Li last week posted two of her photos on renren.com, one of China's most popular social media platforms.
Lin was shown in one of the photos with a dark-skinned face against a rural background before attending the Tsinghua University in 2007. The "after" photo showed an apparently elegant girl with a light-skinned, ceramic-toned face.
The last photo was said to have recently taken and Lin is set to obtain a master's degree in Aeronautics and Astronautics after seven years of studying at Tsinghua University.
Lin was not the only proud student. Her classmates immediately followed with a wave of photos that flooded social media with their big changes in their college years.
But Internet users questioned the university's intentions. A topic titled "Attend Tsinghua to become rich, pretty and posh" has drawn numerous supporters, most of them from Tsinghua, and some fierce critics.
An Internet user from East China's Jiangsu province, called Xinxiang Yiban, said she was surprised to see Tsinghua, one China's best universities, using students' photos to show off its status as a cradle for the rich.
Another micro blogger from South China's Guangdong province commented that the posts by Tsinghua seemed like advertisements for beauty salons.
This is not the first time China's prestigious universities have been suspected of dubious claims during the recruiting season for talented pupils.
Last year, a graduation photo of an elegant female student was published on the front page of People's University's website, sparking lively debate about whether the school was flooded with beautiful female students.