China National Opera & Dance Drama Theater, one of the nine national performing arts companies under the Ministry of Culture, is experiencing a sharp decline in performances this year due to the central government's austerity measures.
Fan Ming, deputy director of performance at the China National Opera & Dance Drama Theater, said the theater held around 90 performances through the first six months of the year, a significant drop compared to nearly 400 in 2012. Revenue this year has dropped by around 5 million yuan ($800,000).
Fan attributed the decline to the Party's frugality rules, including the Eight-Point anti-bureaucracy and formalism rules, and an order from the Publicity Department of the CPC Central Committee to restrict expenses and the arrangement of galas by art troupes.
"We have stopped government-sponsored shows and some commercial galas," Fan said. "Besides performances based on ticket sales, we have increased the number of nonprofit shows and low-ticket-price shows due to the frugality measures."
He said that in order to cut costs, the theater has stopped using extravagant stage settings and inviting big stars.
"I think the measures don't mean to stop all performances. The government's austerity effort put us in a situation to test our original performance productions. The ticket revenue directly connects with market feedback," Fan said, referring to the well-received dance show, Confucius, which has toured the country more than 100 times since 2013, and the award-winning opera, Red River Valley, which will be staged at the Poly Theater in Beijing on Saturday and Sunday.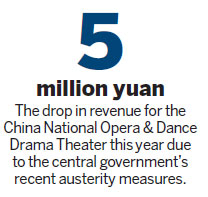 According to a report in the Beijing Times, "more than 10,000 Chinese performance companies have been suspended or shut down" due to the austerity measures.
The newspaper quoted Chen Shaofeng, a professor at the Cultural Industry Research Institute at Peking University, who said performance companies, which used to rely on government support, have all experienced drops in revenue or closures.
Chen said performance companies have to make a transition from government-dominated to market-dominated performance plans. Companies that do not solely rely on sponsored performances have not been hindered by the measures, he added.
Hong Ye, from Mahua Fun Age Production Co, a Beijing-based entertainment company known for its comedic dramas, said: "We have been surviving due to our shows and ticket sales. We have not been influenced by the measures. On the contrary, I think it's an opportunity for us."
In 2013, Mahua Fun Age doubled its 2012 revenue to more than 100 million yuan.
Hip-Hop Crosstalk Club, a Beijing-based performance company focusing on crosstalk, or xiangsheng, said its revenue has grown 10 percent since last year. It is also planning on building theaters in other cities such as Shenyang and Dalian.
Cui Renyu, founder of Pocket Music, which mainly holds performances by foreign musicians, said the company stages around 100 shows every year.
"I think these measures will have the greatest impact on companies that depend on the government. We are an independent company and we have our own content sources," Cui said.
chennan@chinadaily.com.cn