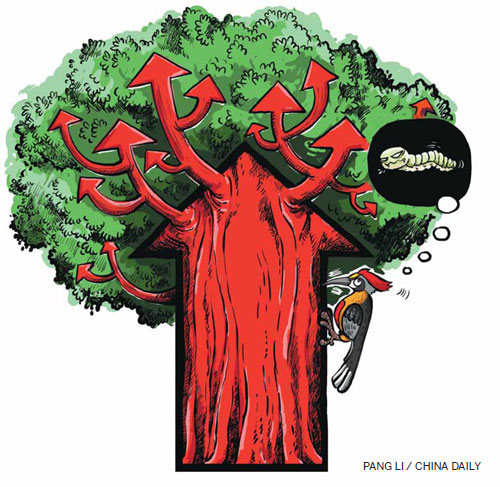 Impact of efforts hard to assess, but benefits expected in long run, Zheng Yangpeng reports in Zhejiang.
The road that runs alongside Shenjiamen port is packed with seafood restaurants that, along with the yachts that fill the marinas, dominate the view of this part of Zhoushan, an island city in Zhejiang province.
Outside each of the glass-roofed eateries, women work their beats, approaching passersby and urging, almost pleading, with them to come in and try the shrimp and clams.
It's a scene that would have been unimaginable just two years ago, before China's new leadership launched a campaign to crack down on the unauthorized use of public money and put an end to publicly funded banquets and red tape.
Before the campaign, residents said, it was almost impossible to find a table at the restaurants, a "must-see" spot for tourists, especially in the evening. When dusk fell on the port, publicly funded banquets accounted for a large part of the restaurants' business.
But the sweet days for restaurant owners are over. In late 2012, President Xi Jinping began curbing extravagant spending and discouraged overt displays of wealth, with officials banned from accepting expensive gifts and attending luxury banquets.
The impact on the once-thriving catering sector was almost immediate and was felt as keenly in Zhoushan as in other parts of the country.
The high-end West Lake Spring restaurant closed in December. Although it had operated profitably since opening in January 2010, everything turned sour in late 2012.
Few regular customers could afford the expensive dishes, and when local officials stopped dining there, trade died. Local media reported that the Zhoushan branch was the first to be closed by the restaurant chain.
The Sheraton Hotel, the most luxurious in Zhoushan, stands next to the city government offices. But trade that once boomed there is now sluggish.
In February, Starwood Hotels & Resorts Worldwide, which owns the hotel, reported fourth-quarter revenue of $1.51 billion, below analysts' estimates.