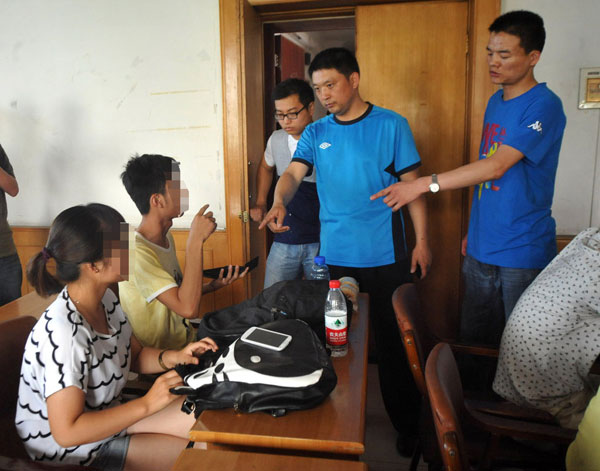 Suspected ghostwriters are investigated by the plainclothes policemen in Jinan, capital of Shandong province, June 5, 2014. [Photo/CFP]
Special teams to investigate surrogate exam-takers, monitors who took bribes
The national education authority is requiring all the institutions and bureaus involved with the newly exposed gaokao ghostwriter scandal in Henan province to work together with the public security bureaus.
"Any people involved in the scandal will receive severe punishment, to guarantee the fairness and justness of the national exam," said the announcement released on Tuesday by the Ministry of Education on its official micro blog.
The ministry has already sent special teams to Henan and Hubei provinces. The admissions office of Henan province said it has launched a joint investigation with the local public security bureau.
So far, Henan province has discovered 127 surrogate exam-takers in the gaokao, the national college entrance examination, according to the announcement from the admissions office.
Several people claiming to be teachers at universities in Wuhan, Hubei province, have organized college students to be ghostwriters for the real exam applicants in Henan province, according to a report from China Central Television on Tuesday.
These people said they have bribed officials and test monitors, who then help the surrogate exam-takers to pass the strict checks before the exams.
In the report, a man only revealing his surname as Li said the college students wear a special fingerprint film to pass the machine check. The test monitors then give the go-ahead when they compare the students and their documents, including identity cards, because they have been bribed to do so.
"To make sure all the teachers are involved with the surrogate thing, we will pay them at least 70,000 yuan ($11,300) for a single test room," the man shown in the CCTV report said.
Two college students who were involved went to Qixian county and three more to neighboring counties in Henan province, and all of them finished successfully. Before the exam, they each received 5,000 yuan as a down payment, and after the scores are released they will get more, according to the report.
If they helped the applicants go to key universities at the provincial level, they will get an extra 20,000 yuan, Li said. If they score high enough for major universities at the national level, the reward will increase to 30,000 yuan. They will get even more if they score higher, he said.
However, based on national laws, college students who replace real applicants to take the exam will be expelled from college and handed in to public security bureaus if the case is severe. Four college students in Harbin were expelled after they were discovered to be ghostwriters for the gaokao in 2002. Similar cases of college ghostwriters have been exposed annually.
For applicants in the gaokao, once they are found using ghostwriters, they will be forbidden from taking the exam for one to three years.
Before the college entrance exam began on June 7 and 8, the Shandong police caught 18 college students suspected of going to Henan province to be ghostwriters.