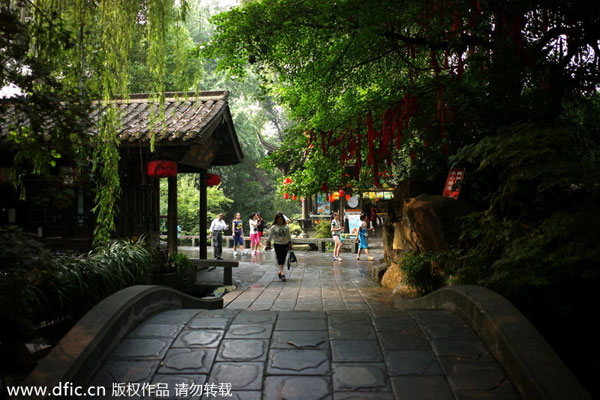 Tourists visit the Jinli Ancient Street in Chengdu, Sichuan province. [Photo/IC]
Chengdu, a key hub in southwestern China, is the most livable city on the Chinese mainland, according to a recent report by the Asian Development Bank.
The research is based on an evaluation system called the Environmental Livability Index, which factors in the quality of urban aquatic environments, water resources, air and the management of solid waste and the environment.
The 33 respondent cities were chosen based on data availability. Most of the data used in the evaluation were sourced from published yearbooks in China and environmental bulletins published by provinces and cities, with the latest data from 2011.
Guangzhou and Ningbo ranked second and third. Beijing ranked 18th and Shanghai 22nd while Lanzhou, Harbin and Taiyuan finished at the bottom of the list, according to the report.
"The project designed a comprehensive index of urban environmental sustainability, including monitoring systems and city rankings," said ADB Principal Environment Specialist Sergei Popov, who led the study. "This will provide policymakers with valuable scientific data on which to base their decisions and take action."
The ranking suggests that the livability index is higher in southern China, on its eastern coastal cities and in economically developed regions. It rated lower in North China, the northwest and in less-developed regions.
"Livability is also higher in cities with good natural conditions, such as Hangzhou, Kunming and Xiamen," the report said. "Environmental management was particularly strong in China's more-developed regions."
The study also shows that though the overall livability and quality of life in some cities have improved, they all face environmental challenges that could impede sustainable growth, such as water shortages, air pollution and solid-waste control.
Other environmental issues that cities face include noise pollution, deterioration of the urban ecological environments, loss of biodiversity and the invasion of alien species.
The index was jointly launched in 2010 by the Ministry of Environmental Protection and the Asian Development Bank.
A study released in 2010, based on data from that year, chose 35 cities on the mainland. Fuzhou, Ningbo and Nanjing were the top three most livable cities.