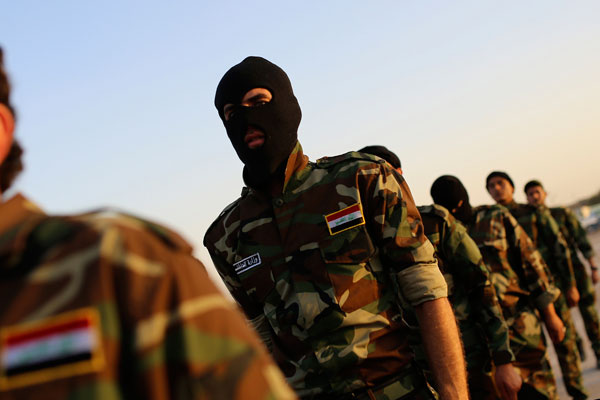 Mehdi Army fighters loyal to Shi'ite cleric Moqtada al-Sadr march during a military-style training in the holy city of Najaf, June 18, 2014. Iraq has asked the United States for air support in countering Sunni rebels, the top US general said on Wednesday, after the militants seized major cities in a lightning advance that has routed the Shi'ite-led government's army. [Photo/Agencies]
Beijing seeks safety for citizens as sectarian violence intensifies
The Chinese government is keeping a wary eye on Iraq and its citizens there as the security situation in the country deteriorates.
The Foreign Ministry said on Wednesday that it has asked Baghdad to increase security for Chinese citizens in the country.
While some Chinese in Iraq are worried about the fighting between government and militant forces and are leaving the country, one expert said the Chinese there are not targets and are safe, at least for now.
On Wednesday, the al-Qaida-inspired Islamic State of Iraq and the Levant laid siege to the country's Beiji refinery, the largest oil refinery in Iraq, about 250 km north of Baghdad, The Associated Press reported. The refinery accounts for about a quarter of the country's refining capacity.
The militants have vowed to march to Baghdad and the Shiite holy cities of Karbala and Najaf in the worst threat to Iraq's stability since the United States withdrew its troops in 2011.
A Chinese engineer with China National Petroleum Corp was reported kidnapped last week at the Halfaya oilfield in southern Iraq by unidentified militants.
Beijing did not confirm the report, but the Chinese embassy in Baghdad urged Chinese nationals in the country to stay away from certain areas and issued a travel advisory for Iraq.
China urged Iraq to reinforce security to protect Chinese citizens and businesses, and citizens were advised to take precautions, Foreign Ministry spokeswoman Hua Chunying said at Wednesday's news conference.
"We are concerned about the current situation in Iraq. We do not want it to turn into another Libya," Hua said. China will make every effort to guarantee the safety of Chinese nationals as the situation develops, she added.
About 10,000 Chinese people are in Iraq, most working in Chinese organizations and enterprises. They are mainly in areas that have not witnessed heavy fighting, Hua said.
Chen Xianzhong, a Chinese businessman in Baghdad, was quoted by Beijing Youth Daily as saying: "The situation is really not optimistic now. Thousands of people will die during the conflict." Chen said he has already shut down his store and hotel in Iraq and decided to return to China.
Yin Gang, an expert on Middle East studies with the Chinese Academy of Social Sciences, said that a mass evacuation of Chinese nationals is not necessary now despite other countries' withdrawing their people.
"The conflicting sides do not seek to undermine the facilities and operation of the oil fields," Yin said. "Chinese personnel are not likely to become attack targets in the near future, so overreaction is not necessary."
The Iraqi government is battling to push back militants from Diyala and Salahuddin provinces after the militants overran the country's second-largest city, Mosul, last week.
The AP contributed to the story.