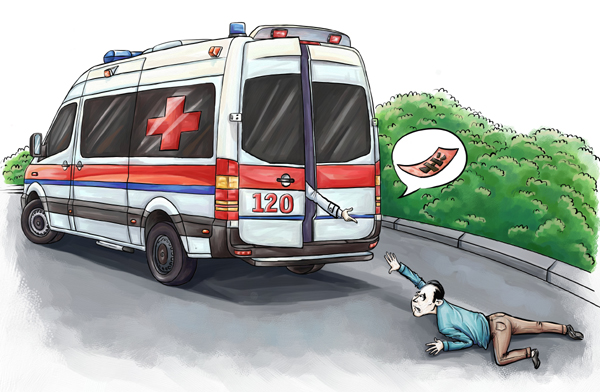 [Wang Xiaoying / China Daily] 
New funding measures being pioneered in East China may ease tensions between medical staff and patients, report Zhang Lei in Beijing and Yan Yiqi in Wenzhou, Zhejiang province.
On May 14, a man was hit by a taxi as he crossed the road in front of the City Central Hospital in Jinhua, Zhejiang province.

Mutual collaboration is key
First Person | Wen Changjun
Wen Changjun, a professor at Fudan University's School of Public Health
The compulsory insurance regulations on motor vehicle liability took effect on July 1, 2006, but there has been a growing debate about how to improve compensation rates and the limits of liability. Although various clauses in the regulations have been adjusted a number of times, a comprehensive accident relief fund has been needed for a long time. To function effectively, laws need to be furnished with support systems. Only a system of mutual collaboration will allow laws to function as originally planned.
No matter how well formulated, the law alone cannot solve complex social problems, especially as road safety conditions are poor. An accident aid fund is a social relief fund by nature, and as such, compensation is not based solely on the existence of an insurance contract.
Wen Changjun spoke with Zhang Lei.
As the victim lay motionless on the ground, police officers who had witnessed the accident rushed into the hospital to ask for help, but members of staff refused to admit the injured man, citing a lack of stretchers and ambulances.
After about 20 minutes, an ambulance from the Jinhua Fifth Hospital arrived at the scene, and the victim was taken there for treatment. According to China News, the doctors on duty were shocked that the man hadn't been treated at CCH and noted the irony of the situation. However, some observers suspected that the real reason the injured man was denied treatment at CCH was that he looked like a vagrant, and would therefore be unable to afford to pay medical bills.
Scenes such as this are becoming all too familiar, according to campaigners, who say the inability to pay hospital admission fees or a failure to contact family members to guarantee payment means that some victims of road traffic accidents, especially the unemployed or those without medical insurance, are not being treated quickly enough. The failure to act is costing lives and causing strained relations between medical staff, hospitals, and the patients they are supposed to treat.
Under Chinese law, hospitals are required to treat the injured regardless of background or financial status, but in some extreme cases, the time lag between an accident and confirmation of payment means that the victims miss out on the "golden time" for treatment, the precious few minutes immediately after injury.
Reimbursement
To rectify the situation and defuse potential flashpoints, the municipal government of Wenzhou in Zhejiang province launched the Aid Fund for Medical Care for Road Accidents on June 1. The fund allocates each patient a maximum sum of 30,000 yuan ($4,800) for the treatment of injuries sustained in auto accidents.