Commander of elite Quds Force joins the fight against Sunni insurgents
In a sign of Iran's deepening involvement in the Iraqi crisis, the commander of Teheran's elite Quds Force is helping Iraq's military and Shiite militias gear up to fight the Sunni insurgents advancing across the country, officials said on Monday.
General Ghasem Soleimani has been consulting in Iraq on how to roll back the al-Qaida-breakaway group, known as the Islamic State of Iraq and the Levant, according to Iraqi security officials. The officials said the US government was notified before Soleimani's visit.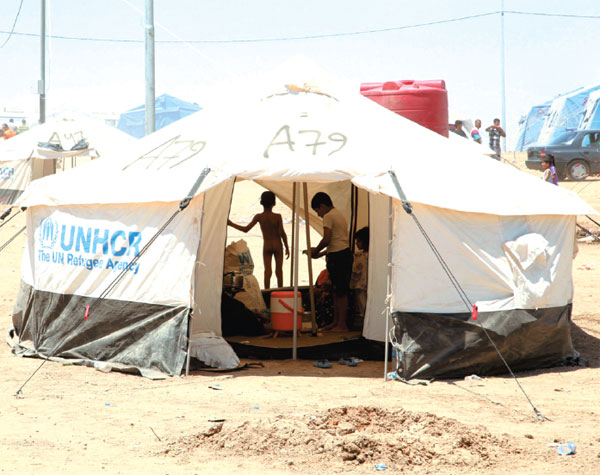 A family who fled violence in the Iraqi city of Mosul camp on the outskirts of Arbil in Iraq's Kurdistan region on Monday. US Secretary of State John Kerry saidWashington is "open to discussions" with Teheran if Iran can help end the violence and restore confidence in the Iraqi government. Azad Lashkari / Reuters
Washington, meanwhile, has signaled a new willingness to work with Iran in helping the Iraqi government stave off the insurgency after years of trying to limit Teheran's influence in Baghdad - a dramatic shift that would have been unthinkable a few weeks ago.
However, Soleimani's presence in Iraq is likely to fuel longtime Sunni suspicions about the Shiite-led government's close ties with Teheran.
The general has been inspecting Iraqi defenses and reviewing plans with top commanders and Iranian-backed Iraqi Shiite militias, the officials said. He has set up an operations room to coordinate the militias and visited the holy cities of Najaf and Karbala south of Baghdad, home to the most revered Shiite shrines, and areas west of Baghdad where government forces have faced off with Islamic militants for months.
The Islamic State has vowed to march to Baghdad, Karbala and Najaf in the worst threat to Iraq's stability since US troops left in 2011. A call to arms on Friday from Iraq's top Shiite cleric, Iranian-born Grand Ayatollah Ali al-Sistani, gave prominence to the need to defend the holy shrines.
Sectarian divide
Soleimani's visit adds significantly to the sectarian slant of the mobilization by the government of Prime Minister Nouri al-Maliki. Armed Shiite militiamen have been parading on the streets and volunteers joining the security forces are chanting Shiite religious slogans.
Maliki rejects charges of sectarianism and points to recruiting efforts by some Sunni clerics, but there is no evidence of Sunnis joining the fight against the Islamic State in significant numbers, if at all.
The legitimacy accorded by his government to the Shiite militias poses a risk of Iraq sliding back into the deadly sectarian bloodshed of 2006 and 2007.
Such tensions were rising months before the Islamic State's lightning incursion of last week, with thousands killed since late last year. Bombings killed Shiites and security forces as militants took hold of vast swaths of territory and at least one city in the mainly Sunni Anbar province west of Baghdad.
Role in Syria
Soleimani is one of the most powerful figures in Iran's security establishment, and his Quds Force is a branch of Iran's Revolutionary Guard involved in external operations. In the mid-2000s, it organized Shiite militias in a campaign against US troops in Iraq, according to US officials. More recently, it has been involved in helping Syrian President Bashar al-Assad in his fight against Sunni rebels.
His visit, along with the training and arms supplied to Shiite militias by his Quds Force, means Iran could take a role in Iraq similar to the one it plays in Syria. The Quds Force - along with Iraqi and Lebanese Shiite fighters - has been crucial to the survival of Assad, himself a member of a sect that is an offshoot of Shiite Islam.
US Secretary of State John Kerry said in an interview with Yahoo! News that Washington is "open to discussions" with Teheran if the Iranians can help end the violence and restore confidence in the Iraqi government.
A senior State Department official said the issue was briefly discussed with Iranian officials on Monday on the sidelines of nuclear talks in Vienna.
The United States is deploying up to 275 military troops to Iraq to protect the US embassy and other US interests and is considering sending a contingent of special forces soldiers. But the White House insisted the US would not be sending combat troops and thrusting the US into a new Iraq war.