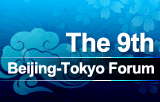 When the Beijing-Tokyo Forum first became reality in August 2005, relations between China and Japan were experiencing difficulties. Now, it is amid a new wave of tensions that the two sides are busy preparing for the tenth session of the forum, which will be held in Tokyo in September.
Actually, there have been tensions between the two countries for the past ten years. Historical problems, the territorial dispute over the Diaoyu Islands and strategic antagonism are all obstacles in the way of the two neighbors improving relations. With the right-wing Abe administration adopting a hardline stance against China, relations between the two countries are now at their lowest point since ties were normalized in 1972.
Worse, unlike previous years where their tensions involved only their own relations, the recent flareup in tensions has become an international affair with the United States reaffirming its support for its ally. It is not hard to conclude that with the US keen to use Japan as its proxy in its efforts to contain China, the differences between China and Japan are becoming an increasingly hard knot to untangle. [More]
Timeline of ties in the past 10 years
In April 2007, then premier Wen Jiabao paid an "ice-thawing" visit to Japan.
In December 2007, a visit to China by then Japanese prime minister Yasuo Fukuda was described as a "spring-herald" event.
In September 2010, 15 Chinese fishermen were illegally seized and detained by Japanese authorities after their trawler collided with two Japanese Coast Guard patrol vessels near the Diaoyu Islands.
On Sept 10, 2012, the Japanese government announced its decision to "purchase" part of the Diaoyu Islands. The illegal move resulted in the suspension of various bilateral exchanges and led to anti-Japan protests in China.
On Nov 23, 2013, China declared the establishment of an East China Sea Air Defense Identification Zone that covers the Diaoyu Islands.
On Dec 26, 2013, Japanese Prime Minister Shinzo Abe visited the Yasukuni Shrine on the first anniversary of his second stint as prime minister, drawing worldwide criticism. [More]