Yan Xuetong, a leading Chinese foreign policy scholar, visited the US a week ago trying to find out whether the downturn in China-US relations is going to be a short-or long-term trend, and whether such a downturn is accidental or premeditated.
He did not get a clear answer after three-day talk to a wide spectrum of people including experts and government officials. "They didn't agree on when the relationship started to improve and when it started to deteriorate," said Yan, dean at Tsinghua University's Institute of Modern International Relations.
"My feeling is that such a downturn is not a premeditated scheme," he said, adding that this is actually a positive sign.
Yan's trip came nearly a year after the historic shirt-sleeve summit between Chinese President Xi Jinping and US President Barack Obama at Sunnylands, Calif., when the two leaders vowed to build a new type of major power relationship that defies the historical rivalry between a rising power and the existing power.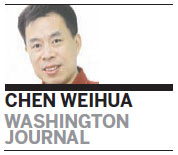 Yan believes that such a consensus reflects the hope by the two leaders to avoid all-out military confrontation, especially when accidents and small clashes happen. To Yan, a war between two nuclear powers and the two largest economies will be calamitous to the two countries and the world.
While the competitive factors between China and the US have increased over the years with China's rise, Yan believes a peaceful competition between the two nations is possible.
Nuclear deterrence, which had prevented war between the Soviet Union and the US during the Cold War, will still be valid, given that no other superior weaponry can change it so far.
Meanwhile, the ideological battle between China and the US was nothing like the Cold War. China has embraced the market economy and globalization. Despite their differences on human rights issues, ideology is not the key issue for strategic competition between China and the US, according to Yan.
Under Yan's theory, shared ideology, values and social system is not necessary for a good relationship, citing the fact that the US and Saudi Arabia have very little in common in these aspects. At the same time, China and Vietnam, which are both ruled by the communist party, are entangled in maritime territorial disputes in the South China Sea while China and Pakistan, which also have little in common in these indicators, have been enjoying the best relationship for decades.
Finally, Yan believes that globalization has rendered it useless for any containment policy. While France and Germany went to World War I with each other despite their interdependent economy, today's economy is more than interdependent, it's simply interwoven.
That is why even China's neighbors, which had maritime territorial disputes with China, do not want to be forced to choose between China and the US because China is their largest or one of their largest trading partners.
In Yan's eyes, a peaceful competition between the two nations is possible if both governments adopt rational policies.
If leaders of the two nations are able to do that, they will truly create a human miracle to defy the historical rivalry between a rising power and the existing power. After all, confrontation or pushing the relationship to hit bottom serves neither China's nor the US interest.
But Yan understands the US anxiety after China is quickly catching up in different sectors, from the total tally of Olympic medals in the 2008 Beijing Games, to the size of the auto market and the gross domestic product (GDP) predicted for the coming decade.
He believes that the US could accept the fact that China has surpassed it or is going to surpass the US in various sectors, but he believes the US will not accept China's challenge to the US in military superiority and global leadership.
While China's military capacity still lags far behind that of the US, many worry that if the current Chinese military buildup continues, it might change the equation in just a few decades.
That kind of US anxiety has also been reflected in President Obama's speech at the West Point military academy last month when he vowed to maintain US military supremacy and global leadership for another century.
Yet the rise of China and countries such as India and Brazil, have called on the US to share power and leadership with others. That will be a tough issue when many of these rising countries would prefer a very different approach than the one the US favors.
Will Washington be willing to let others take the leadership mantle if that happens? In this regard, a new type of major power relationship will be a good test.
Contact the writer at chenweihua@chinadailyusa.com