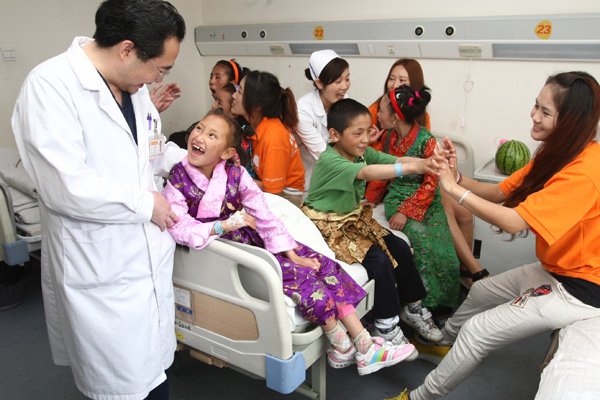 Staff and volunteers hold a birthday party for five children at Shanghai Yuanda Hospital.Wang Rongjiang / for China Daily
China's hospitals have been revolutionized by a group of former low-level practitioners from a small city in Fujian province, report Sun Li and Hu Meidong in Fuzhou.
Many readers will be familiar with the image of a pretty nurse with a sweet smile who adorns ads in newspapers, on television and the Internet, among other places, promoting the service of hospitals that offer cosmetic surgery and treatments for skin conditions and infertility.
However, less well-known is the fact that these same hospitals are run by a group of billionaires from Putian, a prefectural-level city in Fujian province, and a large number of them are even from the same town.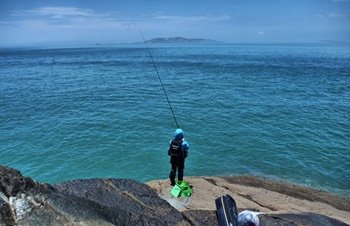 Billionaires live the high-life in China's hospital hot spot




First person | Sun Li in Putian

When I asked a taxi driver in Putian city, Fujian province, if he knew Dongzhuang town, he gave me a look that seemed to say, "Are you kidding me? Heck, yeah!"

Dongzhuang, with a population of 80,000, is located about 30 km from downtown Putian. It's home to "about 21,000 people in the healthcare business in more than 100 cities across the country". About 80 percent of China's private hospitals were established by entrepreneurs from the town. Read More...
Statistics from the National Health and Family Planning Commission show that as of October, 10,877 private hospitals were operating in China, and of those, about 8,000 were run by people from Putian, where more than 60,000 residents are engaged in the medical and healthcare industries.
Their habit of crisscrossing the country to conduct their businesses has even led to a nickname: "the itinerant physicians of Putian".
The story began with Chen Deliang, a 64-year-old resident of Dongzhuang town, which lies within the boundaries of Putian. Chen, whose grandfather was a physician, gained some basic knowledge of traditional Chinese medicine as a child. Then, from the age of 20, he moved around various cities and worked as a "barefoot doctor", providing basic, but essential, medical treatment for people in remote rural areas.
In the early 1980s, during a stint in Guangzhou, Guangdong province, an experienced barefoot doctor taught Chen a special treatment for scabies, a painful, infectious condition caused by mites that burrow under the skin. At the time, scabies was widespread and extremely difficult to cure, but the treatment, which used a combination of nitric acid, mercury and vinegar, turned out to be an effective weapon in the barefoot doctors' arsenal, Chen recalled.
The medicine, which sold for 2 yuan (32 US cents) a bottle cost only 0.2 yuan to make. Its popularity meant that Chen could make about 200 yuan a day at a time when public servants earned about 30 yuan a month.
Chen's rapidly expanding fortune resulted in an ever-increasing number of people in Dongzhuang town beating a path to the young man's door to learn the recipe.
Eight students attended Chen's first classes, including Zhan Guotuan and Huang Defeng, both of whom are now tycoons in the private-hospital industry.
The students passed their knowledge on to other people and the resultant ripple effect resulted in a large number of people in Putian learning the skill.
The trend was also noticed by the authorities, who began offering medical courses in the city and ordered the "itinerant physicians" to return to the city to pursue their studies and pass an exam before they were allowed to work as semi-qualified practitioners, although none has the right to call him or herself a physician.
"The certificate issued by the authorities provided official credentials for me and my followers to visit different provinces and treat patients," Chen said.