Parental love expressed with Gaokao dishes
Last weekend nearly 9.4 million participants took Gaokao, China's annual national college entrance exam.
Every year the nation's attention is focused on this exam and the students who have spent days and nights preparing for it finally get the chance to justify their years of hard work.
But behind the scenes are the parents who silently share the pains and joys of their children, and try their best to provide the best they can to ease their children into what could be considered the first and most fierce competition of their young lives.
Some parents instill their love and support into the carefully prepared meals they make everyday for their studious children. Here are some culinary examples China's parents made this year for their children.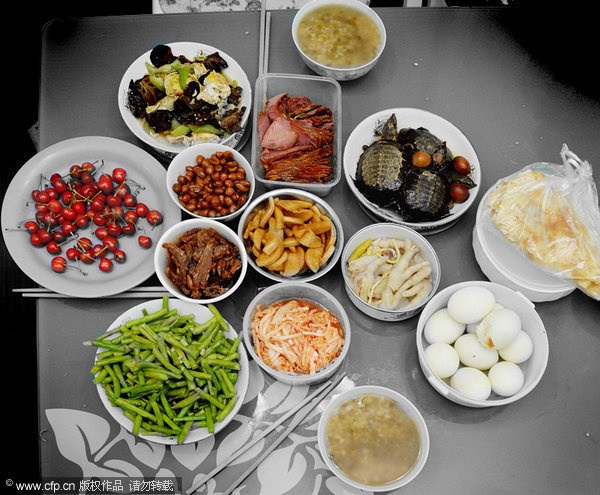 [Photo/CFP]
Dishes: loofah, black fungus and stir-fried eggs; Cantonese roast pork; potatoes; chicken feet; cherries; Chinese pancakes; preserved dried turnip; turtle; snap beans; green bean sweet soup
Mr. Wang is a high-school teacher who has rich experiences in tutoring the students for Gaokao. This year is special for him not only because he is in charge of the students who take Gaokao but his own daughter was one of them.
When it comes to the diets before the event, Mr. Wang says the most important thing is to keep the meals nutritionally balanced. Meals include vegetables and meat, fine and coarse grains.