Businesses benefit from 'gaokao economy'
By Luo Wangshu in Chongqing, Wang Hongyi in Shanghai and Zhao Xinying in Beijing | China Daily | Updated: 2013-06-07 10:24




China's national college entrance exam, the gaokao, is no longer just a test that affects students and their families - it is helping to create booming markets.
Ahead of this year's exam, on Friday and Saturday, hotels near test sites are fully booked, restaurants are offering free drinks and healthy "brain food", online stores are selling out of lucky charms, and parents are swarming to temples to pray - and in many cases make donations - for their children to score high marks.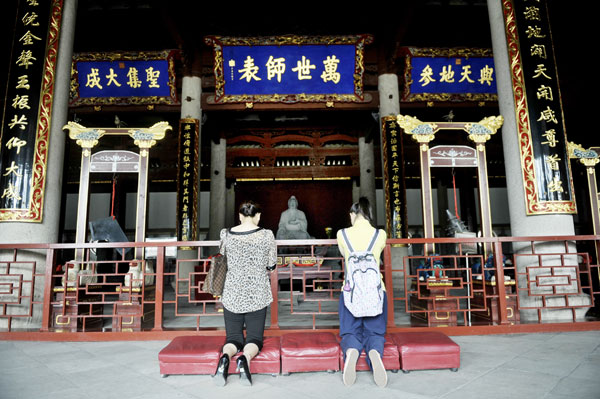 A student and her mother pray for good luck in the coming gaokao, or college entrance exam, at the Confucian Temple in Fuzhou, Fujian province, on Thursday. LIU TAO / FOR CHINA DAILY
Observers have dubbed the effect "the gaokao economy".
More than 9 million students will take the make-or-break exam this year, more than the population of Sweden. That means millions of anxious parents, who traditionally have never been shy in spending money if they think it will improve the chances of their child doing well.
To avoid wasting valuable study time commuting to and from an exam hall, for example, many families attempt to stay close by, which is good news for hotels and guesthouses.
A search for "gaokao hotels" on Ctrip's online booking service showed not one room near any test site in Beijing is vacant this weekend. Media reports in Shanghai also said some parents are paying as much as 5,000 yuan ($815) a night for five-star hotels.
Businesses are even adopting marketing strategies that target gaokao parents, with hotels promising a "home away from home", while restaurants promote healthy meals to keep youngsters focused.
Beijing eatery Hong Zhuang Yuan, whose name translates as "top-scoring scholar", has been serving "gaokao meals" for years and this year is offering students free mung bean soup.
Health products that promise to boost energy are also selling well in Shanghai. "It's the same every year," said a cashier at a drugstore near the city's Huaihai Road. "During peak times we can sell dozens of bottles of fish oil."
Yet not everyone is happy about the trend. Shanghai student Zhou Mingyang said that in preparation for the exam his parents had given him a host of healthcare products. "I poured most of it away," he said. "It tasted so bad."
While some parents concentrate on food for the brain, others look to food for the soul.
"We get a lot of students and their families at this time of year," said Hou Dongling from Shanghai Confucian Temple. "They come to pray for a good result, as the temple is known for the God of Wisdom. The peak time is usually the weekend before the exam."
Li Yushan, who studies at Shanghai Nanyang Model High School, has already been accepted by Fudan University's medical school, but said she visited the temple for reassurance.
"I also went to Mount Wutai because it's the home of the Bodhisattva of Wisdom, Manjusri," she said. "Many students pray to Manjusri before the gaokao."
Of course, faith and superstition are also big business, one that traders on Taobao - China's largest online marketplace - are capitalizing on.
A search on Taobao for "gaokao" on Tuesday produced more than 870,000 results, with items for sale ranging from study guides to "lucky" stationary sets and T-shirts printed with inspirational messages, such as "Fight for the Exam" and "Put Positive Energy Toward Your Dreams".
One Taobao trader, who did not give his name, said this year he has sold more than 500 colorful T-shirts bearing words of encouragement.
Wang Shanshan, 25, whose younger brother will take the gaokao in Shandong province this month, said she had simply bought him some walnuts and chocolates, rather than a gimmicky product.
"Yes, the exam is important, but neither students nor their parents should be blind in their actions," she said.
Wang took the gaokao in May 2006, and she recalled that when she was preparing, her mother purchased a Buddha statue and prayed for her almost every day.
"I know she meant well, but the high expectation that put on me just added to the stress and made me more nervous," said Wang, now an employee of the University of International Business and Economics in Beijing.
Now it is her brother's turn to take the exam. She said she has been surprised to see her parents have changed their attitude.
"This time they're acting as normal, no praying or blindly buying things," she added. "This is good for my brother."
Hu Qingming, the 47-year-old father of a student who is about to take the exam, also said he will not be buying any lucky charms for his daughter.
"I'll pray for her in my heart," said Hu, who works for a State-owned enterprise in Beijing. "As a parent, speaking or doing too much only adds to the pressure.
"My daughter has worked hard during high school. I believe in her, and I don't think she needs these things to help her."