Businesses benefit from 'gaokao economy'
By Luo Wangshu in Chongqing, Wang Hongyi in Shanghai and Zhao Xinying in Beijing | China Daily | Updated: 2013-06-07 10:24




Cabbies give kids free rides
While many companies are cashing in on the national college entrance examination, or gaokao, not everyone is out to make a profit.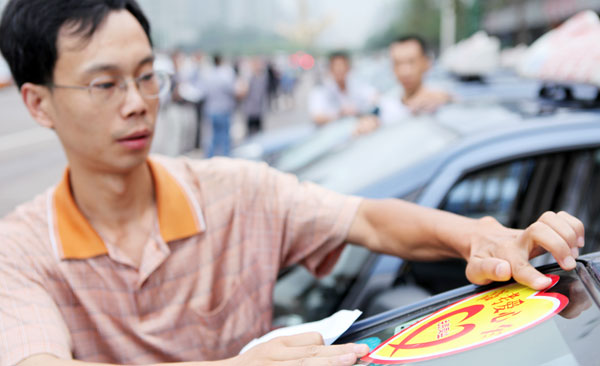 A cab driver pastes a "free for gaokao students" sticker on his windshield in Chongqing on Thursday. CHEN SHICHUAN / FOR CHINA DAILY
In Chongqing, more than 500 taxis will be offering free rides for youngsters taking the exam.
Cheng Zhu, operations director at Chongqing Taxi Co, said the State-owned company has set aside 100 of its 1,000 cabs for gaokao students on Friday and Saturday. Another 20 cabs will be on standby in case of emergencies.
He said booking hotlines were open from May 30 to June 1, adding that the company has been providing the free service for eight years.
Huang Min, who will be among the drivers transporting the students, said he may lose money during the exam, but it is worth it.
"Time is money for cabbies," said the 43-year-old, who earns 150 to 200 yuan ($24-$32) a day. "I may miss the rush hours during the gaokao, but compared with the joy I get from helping students, the money doesn't matter.
"These children spend years studying. I want to provide as much help as possible," said Huang, who has a 10-year-old daughter.
Another four companies in Chongqing will also offer free rides this year.