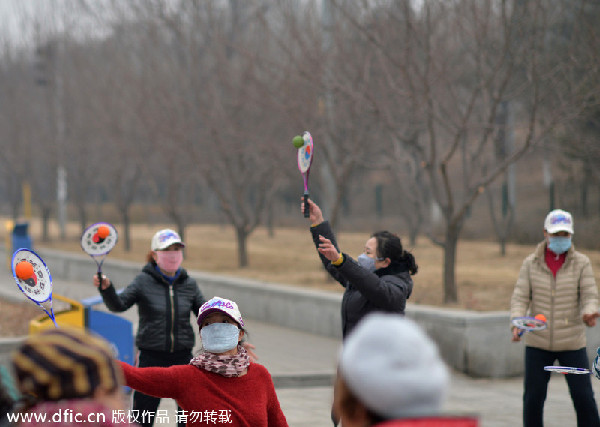 People do exercises at a Beijing park on a hazy day, Feb 23, 2014. [Photo/IC]
Beijingers could live on average 58.17 years in full health, about 10 years fewer than the average in most industrialized countries, according to the top public health official in the capital.
Deng Ying, director of the Beijing Center for Disease Prevention and Control, said the first research on healthy life expectancy in Beijing, and probably in China, aims to remind the public to add quality to the quantity of life lived.
Healthy life expectancy is a relative statistic that estimates the average number of years that a person can expect to live in full health, on the basis of the current mortality rates and the prevalence of health conditions in the population.
"The study on HLE will be conducted every three years, and people should be instructed to increase healthy life expectancy and make their later years more comfortable and rewarding," he said.
"It also has implications for health planning and healthcare expenditure," he added.
In the survey, 6,040 local residents with hukou and who are aged 18 to 80 were polled in face-to-face interviews. They were questioned about eight health-related aspects, including exercise habits, pain, sleep, energy, eyesight and interpersonal relations, according to Li Gang, a researcher at the Beijing center who is in charge of the study.
Local males average an HLE of 61.4 years, longer than the 56.06 years for females, the study found.
Additionally, Beijingers in downtown areas have a slightly greater HLE than their counterparts in the suburbs, the study found.
In 2013, the average life expectancy reached 81.51 years among Beijing residents with hukou, official statistics showed.
A comparison of the HLE and the expected life span shows that "people are struggling with disabilities or diseases in later life", Li said.
He said the average life span of locals has flattened out and that increasing the local HLE has become the top priority.
Primary health risk factors, besides aging itself, include major chronic diseases such as cancer and cardiovascular conditions, the study found.
Other conditions impairing quality of life include arthritis, chronic gastritis and hypertension, it said.
"A shift to a healthy lifestyle highlighting healthy diet and more exercise could help improve personal health substantially," said Deng, the center's director, who added that medical treatment accounts for less than 10 percent of the factors that determine an individual's health.
shanjuan@chinadaily.com.cn