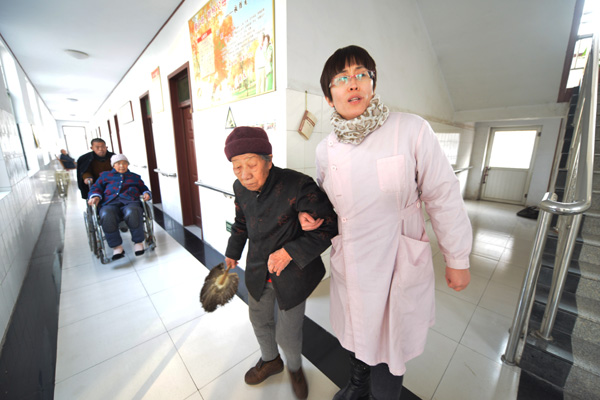 Jin Yonglian, an employee at a nursing home in Zouping, Shandong province, helps an Alzheimer's disease patient back to her room on Jan 9. Dong Naide / for China Daily 
New therapies
As part of measures to help address problems, Beijing's Xicheng district has arranged a series of weekend sessions for its residents, especially the elderly, since 2009. The pilot project is supported by MooYoo, a social workers' organization. The organization invited various professionals across disciplines, such as doctors and philologists, to talk about the issue.
Yang Liangliang, an official from the district administrative office, said that apart from group activities including singing, paper-cutting and cooking, the sessions during the first half of this year also focused on social skills and mental health.
"These group activities can help provide a comfortable environment for the elderly. Interacting with these professionals can alert us to any abnormal health conditions of the participants at an early stage," Yang said.
Jin Weiye, a new graduate of the Central Conservatory of Music majoring in music treatment, had been invited to lecture in the district in June this year. Jin said music can be used as assistance treatment in many areas, including for depression, Parkinson's disease, children's autism and senile dementia.
Jin is working as a music therapist in a nursing home of the district. There are 126 residents with an average age of 85 in the nursing home. The home evaluates the physical and mental conditions of the inhabitants and gives suggestions to those who are suspected of suffering from cognitive disorders or dementia to receive music treatment along with medication.
Jin said more than a quarter of all elderly people in the nursing home were diagnosed with dementia. To help the seniors with their brain functions, Jin designed various methods for different patients - for example, using adapted lyrics of songs that were popular in the 1950s to 1970s or teaching them simple dance steps to go with the music. Each of her class has eight to 10 patients.
"Music treatment can be effectively catered to the individual patient," Jin said. "Some patients have poor sense of direction while others might not be good at recognizing the consequences of events that occurred in their lives."
She said teaching elderly people is more challenging than treating children.
"But I get a stronger sense of satisfaction from recording each progress that they have made. China will have more elderly people in the future. The treatment is not medically as effective as drugs, but it delays the worsening process and enhances the quality of their lives," Jin said.
Apart from the music treatment, Xicheng district also plans to introduce more sessions on treating and preventing dementia, including the use of fragrances, said Yang, the district official.
"We've also learned other methods from foreign countries, like decorating homes with the style that was popular when the patients were young. The familiar environment helps them recall their past and it is good for the memory," she said.
Contact the writer at yangwanli@chinadaily.com.cn