Profile | Reto Wittwer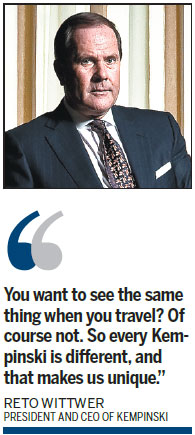 Even as many international hotel groups are mushrooming all over China, one of the world's oldest luxury hotel brands is taking the path less traveled.
"We will never have more hotels than the age of our company," says Reto Wittwer, president and CEO of Kempinski. Wittwer was on a visit to China to supervise recruitment recently.
Established in 1897, the German brand has only about 75 hotels worldwide, with 18 established in China.
"Everything related to luxury is limited, be it a watch, a car or a hotel. And when it goes beyond a certain number, then it will become a mass product," he says.
Kempinski will keep the number of its hotels in China to about 25, even in the long run, so it can ensure the quality of service in the world's second-largest economy.
"It means we have to become better and better and we will take out those hotels ranked at the bottom in terms of quality."
Another measure to keep service quality from being detracted is to establish a new brand.
A partnership with the Beijing Tourism Group, the first hotel under the brand NUO is expected to welcome guests in 2015.
Witter says the new brand is to satisfy the growth potential of the Chinese market. But the Kempinksi brand will have its unique selling propositions.
"You want to see the same thing when you travel? Of course not. So every Kempinski is different, and that makes us unique," says Wittwer.