Traders Upper East Hotel presents Korean Food Festival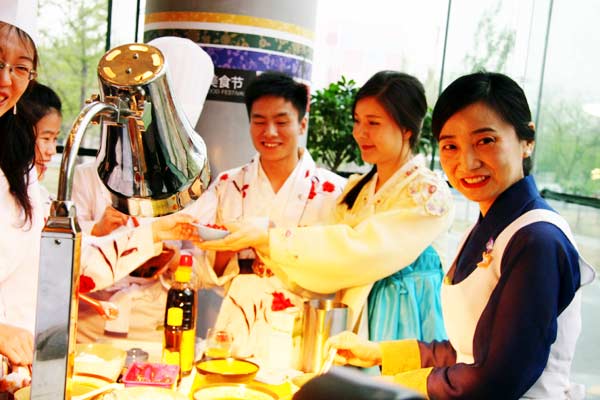 [Photo provided to chinadaily.com.cn]
From 15 to 30 April 2014, Traders Upper East Hotel, Beijing will host the Korean Food Festival at Café Noir. The event is supported by the Korean Cultural Center, China, Ms Kim Seungsuk and Kooksoondang Rice Wine, which will present Korean specialties, such as Mustard Sannakji, Grilled Eel, Galbi, Kimchi Marbled Meat, Naengmyeon, Kimichijeon and Bibimbap. Signature beverages include rice wine, sikhye, sujeonggwa and jujube tea.
On 15 April 2014, the opening day, guests will be entertained by traditional Korean song and dance performances by the Korean artists and Korean International School in Beijing. The Korean Food Festival Launching Ceremony will kick off as guests come together to cut more-than-30-metre Korean rice cakes for good wishes to the Korean Food Festival and all the guests present at the party.
During the whole festival, the Korean Cultural Center will display Korean folk decoration and works at Café Noir. Ms Kim Seungsuk, the most popular Korean cuisine chef, will hold cooking classes from 5 to 6 p.m on 15 and 16 April 2014. Guests can enjoy delicious food while learning the authentic process of Korean cuisine. All diners at Café Noir on that day are welcome to participate in the classes.
IF YOU GO
Traders Upper East Hotel
2 Dongsihuan Beilu, Chaoyang district, Beijing
010-59078008