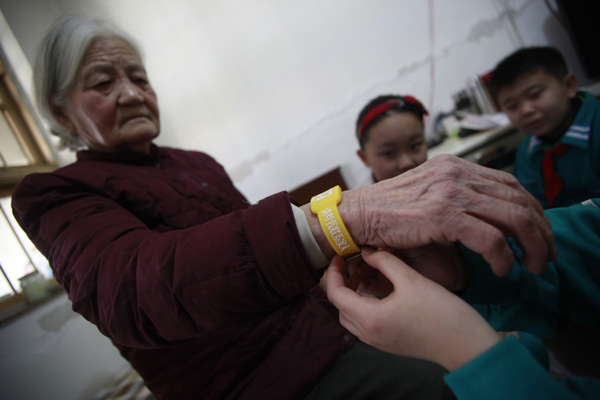 Pupils in Jinan, capital of Shandong province, help a senior resident wear a yellow wrist band in March, 2013. The band, specially designed for Alzheimer's patients, contains the information of senior residents and enables them to contact family members in case they get lost. Zheng Tao / for China Daily 
Lack of public awareness
Poor public awareness of the disease has also been worrying medical professionals. In June, the results of an online survey about senile dementia - a loss of brain function that occurs with certain diseases during aging - indicated that nearly half of the respondents considered dementia as a normal aging process.
Worldwide worry
Last year, Japanese police received about 130,000 reports on missing people who were suspected to have or had been diagnosed with dementia, broadcaster NHK reported in June this year.
The number of cases was up 7 percent year-on-year. Police later reported that nearly 400 of those missing were already dead.
There were about 1,000 more men than women reported missing. Most reports filed with the police were made in Osaka, the second-largest city in Japan.
The Japanese public security department is now working on an identity tracking system, and it is expected to be implemented throughout Japan.
A missing person's report will be posted on the website of the security department, with the agreement of the family members. For those who cannot be identified, their photos will be available in the police station.
Dementia patients with information registered in the system can be found with clues such as their clothing or accessories if they go missing.
Statistics from the World Health Organization showed that the global societal costs of dementia were estimated to be $604 billion in 2010, accounting for 1 percent of worldwide GDP.
In the US, taking care of dementia patients can cost up to $203 billion each year (excluding the cost of unpaid caregivers), said Chen Shengdi, a neurologist from Ruijin hospital affiliated with Shanghai Jiao Tong University School of Medicine. 
Only 22 percent of the respondents said that they would take their parents to the hospital if he or she experienced memory loss.
Fang said the gap in the public awareness of senile dementia between China and the West is being narrowed. Still, awareness of the disease is high in Beijing and Shanghai but lower in small cities and remote areas.
"Some diseases, especially Alzheimer's, which usually surface in the process of aging but are actually not a part of normal aging, should be given more attention. Alzheimer's permanently damages the brain's nerve cells. The pain not only tortures the patients but also their family members," Fang said.
For Xie, who had taken care of her Alzheimer's-afflicted father for five years, the disease has become a painful memory for her and the family.
Her father got lost on a road for the first time in 2004, after moving from their rural home to the city to be closer to the children.
"I thought it was just because of a change in his living environment. But then he started trying to get in our neighbor's house," she said.
After his diagnosis, her father's actions began to get more dangerous.
"He started forgetting to turn off the gas and couldn't stand up by himself after using the toilet. His bad temper scared those around him, including the nurses," Xie said.
With the worsening of his memory, her father could no longer recognize his family. In 2011, the family held an 80th birthday party for him, but the senior hardly knew what the celebration was for.
Xie tried to find a nursing home for her father. But without guidance from experienced medical staff, her father refused to eat or sleep in the unfamiliar environment.
Zhang Xinqing, an expert on senile dementia from Beijing Xuanwu Hospital, said about 40 percent of elderly people aged above 80 in Beijing are suffering from dementia, among which about 80 percent are those afflicted by Alzheimer's disease.
"Treating and managing senile dementia should be promoted to the public, though the condition cannot be completely reversed. The symptoms can be improved, which means the quality of life for sufferers can also be improved accordingly, thus delaying its progression," Zhang said.
Chen Shengdi, a neurologist from Ruijin Hospital affiliated with Shanghai Jiao Tong University School of Medicine, said the annual direct and indirect costs of each dementia patient in Shanghai averages between 8,432 and 10,568 yuan, respectively.
"Compared to the prevalence of the disease, up to 90 percent of dementia patients remain undiagnosed or untreated. Many people believe that senile dementia can be treated with approaches like mental training or memory building, and medical or drug intervention seems to be unnecessary," Chen said.
Thanks to increased efforts on disease education, the public is acknowledging Alzheimer's disease more. But recognizing symptoms early is still inadequate, resulting in delayed medical assistance and continued misunderstanding over its management.