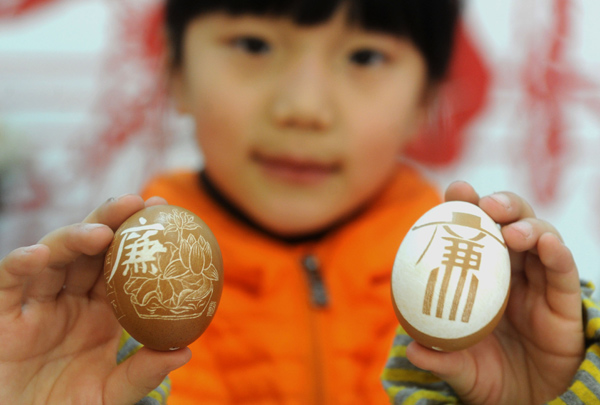 A teen shows two eggs with the theme of "clean government" carved on the eggshells, on Jan 17, 2014, in Hefei, East China's Anhui province. [Photo/Asianewsphoto] 
BEIJING -- A total of 229 officials at provincial or ministerial level have been told to quit companies where they hold concurrent posts, according to government figures released on Wednesday.
In a move designed to restrict conflicts of interest through such arrangements, the Organization Department of the Communist Party of China Central Committee issued a circular in October to ban leading government and Party officials from working for outside companies.
Following the circular, a special inspection has been conducted and 40,700 leading officials, including 229 at provincial or ministerial level, were found to have extra jobs such as independent directors or supervisors at public companies, according to the department.
All the provincial-level officials have been told to quit the companies and to date 173 have finished resignation procedures, it said in a statement.
The rest have also handed in their resignations but have to remain at the companies for a while before successors are found, as company law stipulates.
The Organization Department pledged to press the officials to resign and closely monitor their resignation procedures.
Banning higher-level officials from businesses has helped to build a sound market order, according to the statement.
It explained that current regulations do not rule out retired officials working for companies unrelated to their previous positions.
However, they must obtain relevant authorities' approval and should not receive any kind of payment or subsidies from the companies, it said.
To better implement the regulations, the department will issue another detailed directive soon and the public is also invited to blow the whistle on violations.
Previous media reports revealed that the regulation has resulted in "an exodus" of independent directors from listed companies.