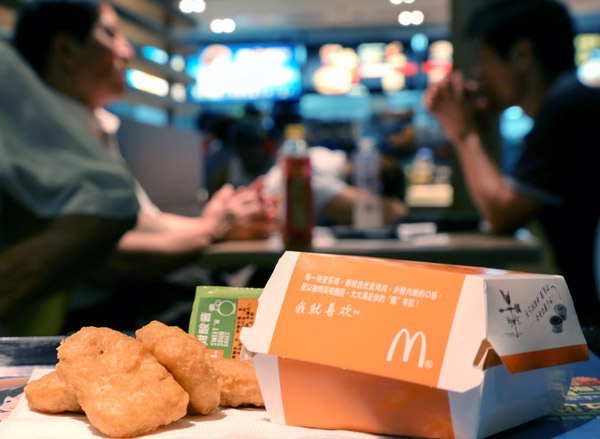 Chicken nuggets are sold at a McDonald's restaurant in Beijing on Monday. Some products are no longer for sale in Shanghai after Shanghai Husi Food Co Ltd, a subsidiary of the Chicago-based OSI Group, was exposed in a media report as supplying fast food restaurants with expired chicken and beef. [Photo/China Daily]
Restaurants that have used products from Shanghai Husi Food Co Ltd

A number of fast food restaurant chains are clients of food producer OSI's subsidiary in Shanghai, but food authorities had not released a list of the company's clients by Monday evening. Following are responses from some of the fast food restaurants in China that have been accused of using outdated food from the company.

McDonald's

McDonald's said on Sunday night that it had informed all franchises in the country to stop using or selling the questionable products and keep all the meat from Shanghai Husi Food Co. They have organized a professional team to investigate the case and will release the results as soon as possible.

Burger King

A few Burger King products have meat from the Shanghai Husi Food Co and all of them have been removed, the company said.

KFC and Pizza Hut

Yum! Brands, which manages KFC and Pizza Hut, said on Monday that it ordered all KFC and Pizza Hut franchises to stop using meat from Shanghai Husi Food Co and launched an investigation into OSI's subsidiary in Shanghai. It may lead to a shortage of two hamburgers sold at breakfast at some KFC outlets and a beef dish at Pizza Hut. Yum promised to resume supplies as soon as possible.

Starbucks

Starbucks said on Monday that only one product used chicken provided by Shanghai Husi Food Co, adding that this product has been sold in only 12 provinces. All the outlets in these

areas have stopped selling that product.

Dicos

Dicos confirmed on Monday that it was supplied by Shanghai Husi Food Co, and said it has required all outlets to seal up all meat produced by the company and stop selling one kind of breakfast sandwich. It also launched an  investigation into OSI's subsidiary in Shanghai and related companies to guarantee food safety.

Source: China Daily REPORTS; ZHENG JINRAN, GRAPHIC: G. MUNRO / CHINA DAILY

Punish harshly for bad food, experts say

Food safety experts said China needs tougher measures in its laws to effectively supervise food makers and sellers.

Top chains may suffer a backlash that lingers  

Leading fast food chains in China - McDonald's, KFC and Pizza Hut - are expected to suffer a lingering impact from recent media reports involving a food supplier allegedly using meat products past their expiration dates.

Supplier alleged to have mixed expired meat into products
Shanghai has shut a food production factory for allegedly selling out-of-date meat to restaurant giants including McDonald's and KFC.
A Shanghai television channel, which first reported the allegations on Sunday night, said that workers at Shanghai Husi Food Co Ltd mixed expired meat with fresh product and deliberately misled quality inspectors from McDonald's.
Gu Zhenhua, deputy director of the city's Food and Drug Administration, said they had ordered the company to suspend production and seized food and raw materials for investigation.
Shanghai Husi Food is a subsidiary of Chicago-based food company OSI Group.
McDonald's and Yum! Brands, which owns KFC and Pizza Hut, said on Monday that they have halted buying meat products from the Shanghai supplier, and reiterated that they have zero tolerance for illegal behavior in food safety.
McDonald's asked all its outlets in China to stop using Husi products, according to a statement on the company's Chinese micro blog on Monday.
It has apologized for the absence of some meat products because of this incident and will resume the supplies when it can make sure the food materials fully comply with laws and standards.
Yum! Brands' KFC and Pizza Hut restaurants had similar responses.
Yum is China's biggest fast food company, with a market share of 5 percent last year, according to London-based researcher Euromonitor International.
McDonald's is second largest with 2.6 percent of the market.
OSI Group, which owns Shanghai Husi Food, posted a statement on is website saying: "We sincerely apologize to our customers for any problems caused and to consumers who may be affected by these events."
Guo Zhun, director of local NGO Nature's Friend Ecological Protection Association's food safety department, urged more transparency in production.
"It is only when the company welcomes visitors into the production workshops that consumers can be sure of food safety," Guo said.
This case comes after fast-food chains were hit by a food safety issue involving Chinese suppliers two years ago.
In December 2012, Shanghai authorities said that tests conducted by a third-party found high antibiotics levels in chicken supplied to Yum by Liuhe Group Co. The company also supplied McDonald's in China at the time.
Local management has learned painful lessons from 2012's scare and will take immediate and forceful measures to contain any adverse publicity and close the loopholes in any quality-assurance procedures, analysts He Mei, Huang Yaoxin and Guo Haiyan of China International Capital said in a report on Monday.
Scandal-weary customers expressed mixed feelings.
At lunchtime on Monday, a McDonald's restaurant in northern Beijing was packed with consumers eating hamburgers. Many of those interviewed were not aware of the latest scandal.
A woman named Xiao Yu, who just bought an ice cream, said she read the news on her cellphone and thought it might be safe to just buy products not involving meat.
"I think I won't come back here for hamburgers for a very long time," she said.
However, another diner in McDonald's, Liu Kun, a 24-year-old student from Nanjing who was visiting Shanghai, said he was unconcerned.
"The incident won't change my eating here," said Liu. "There have been negative reports all the time. McDonald's and KFC are the leaders in the industry."
Wang Hongyi in Shanghai, Bloomberg and AP contributed to this story.