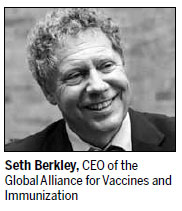 Chinese-made vaccines for Japanese encephalitis are expected to be exported by early next year to needy Southeast Asian countries, protecting children there from the lethal virus.
"So far, we've received an application for JE vaccine support from Laos, and we are still open to applications from other ... eligible countries also burdened by the disease," Seth Berkley, CEO of the Global Alliance for Vaccines and Immunization, a public/private global health partnership, told China Daily during a visit to the country that concluded on Thursday.
If everything goes smoothly, "children in applicant countries will get the shots in the first quarter of 2015", he said.
The disclosure follows an announcement early this month by Margaret Chan, director-general of the World Health Organization, that the China Food and Drug Administration's regulatory system for vaccines had passed the WHO assessment.
Additionally, the Japanese encephalitis vaccine produced by Chengdu Institute of Biological Products of Sinopharm received WHO pre-qualification in October, which means it's up to international standards for quality, safety and efficacy.
It's the first Chinese-made vaccine recognized by the program but probably won't be the last, according to Bernhard Schwartlander, the WHO representative in China.
Berkley said that "besides children in China, others in poor countries can benefit from international-standard quality products as well" via the Global Alliance for Vaccines and Immunization. More than 4 billion people live in Japanese encephalitis-endemic areas worldwide, mostly in Southeast Asia and the western Pacific, according to the WHO.
Zhang Li, the senior manager of GAVI, said countries with annual per capita incomes under $1,570 are eligible to apply for vaccine support.
Potential applicants include Nepal, Bangladesh, Pakistan, Vietnam and Cambodia, she said.
According to GAVI's budget, financial support for the Japanese encephalitis vaccine project will be about $105 million between 2015 and 2020, and the expenses for implementation and routine immunization will be borne by the aided countries themselves.
"Applications are accepted on condition that the vaccine will be included in the national immunization programs of the aided countries," she said.
Ge Yonghong, managing director of the Chengdu Institute of Biological Products, said the company had increased production capacity during the pre-qualification process.
"The output of the JE vaccine could meet demands both at home and overseas," he said.
It took the company more than seven years to get the WHO pre-qualification, and "it's just the beginning for Chinese-made vaccines to go abroad and protect children worldwide", he said.
Berkley, the CEO of the global alliance, agreed, saying the Chinese JE vaccine is the best of its kind worldwide and "China's vaccine industry is highly likely to benefit children in poor countries with quality vaccines at affordable prices."
It also helps China establish a name brand globally for its vaccines, he said.
shanjuan@chinadaily.com.cn