Japan's main opposition leader vowed on Wednesday to carry out a candid conversation with Beijing to improve ties, which were further strained recently over Japan's new military policy.
Liu Yunshan, a member of the Standing Committee of the Political Bureau of the Communist Party of China Central Committee, told Banri Kaieda, president of the Democratic Party of Japan, that China expects Japan to "learn from history" and focus on the path of peaceful development.
Japanese Prime Minister Shinzo Abe said earlier this month that Japan's military has the right to deploy troops overseas under its new "collective self-defense" policy, marking a radical shift in the country's post-war pacifist stance.
Kaieda, who arrived in Beijing on Tuesday night, told journalists before leaving for Beijing that he would discuss with high-ranking Chinese officials ways to break the impasse in ties, including examining the possibility of a summit.
"It is a pity that leaders of the two countries cannot have heart-to-heart talks," he said.
Abe has asked for a summit - top-level political exchanges have been frozen since Japan "nationalized" China's Diaoyu Islands in 2012 - but he faced accusations that he was playing to the media rather than seeking an actual meeting.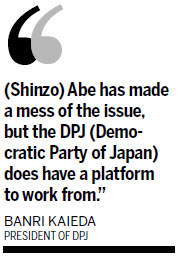 Beijing has consistently said that Japan should first adopt a stance on history and territorial issues that reflects the facts.
Huo Jiangang, a researcher on Japan studies with the China Institutes of Contemporary International Relations, said Kaieda's trip aims to show that the Democratic Party of Japan wants to play a role in improving China-Japan relations".
"Abe has made a mess of the issue, but the DPJ does have a platform to work from," Huo said.
Abe's attitude has damaged the prospect of better relations, he said. Kaieda has also planned to convey to Beijing his party's objections to Abe's attempts to revise Japan's pacifist Constitution.
However, Huo said that because the ruling Liberal Democratic Party of Japan holds more than half of the seats in both houses of Parliament, opposition parties face an uphill task, although they can help shape public opinion.
The Kyodo news agency said Kaieda's tight schedule includes meetings with Wang Jiarui, chief of the International Department of the CPC Central Committee, and Tang Jiaxuan, head of the China-Japan Friendship Association.
Kaieda speaks fluent Chinese and is aware of China's concerns. His father even used a Chinese phrase, "the Great Wall extends 10,000 miles", to name his son. Banri means a ten thousand miles.
At the beginning of their talks at the Great Hall of the People, Liu called Kaieda an "old friend" of China.
lixiaokun@chinadaily.com.cn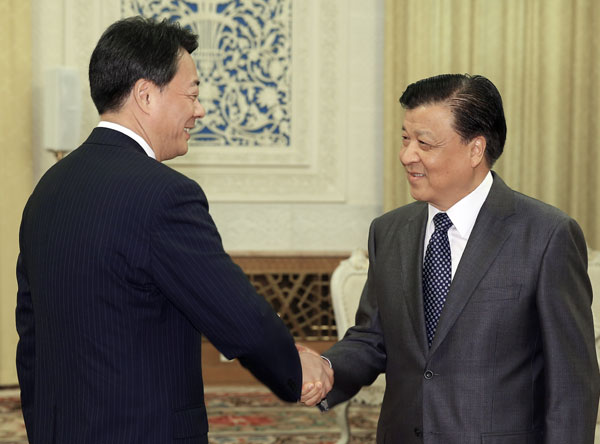 Liu Yunshan, a member of the Standing Committee of the Political Bureau of the Communist Party of China Central Committee, shakes hands with Banri Kaieda, president of the Democratic Party of Japan, during Kaieda's visit to Beijing on Wednesday. Liu said China expects Japan to "learn from history" and focus on the path of peaceful development. Wu Zhiyi / China Daily