Chang'an Avenue's 'golden guardrails' up to the task; intercity railway under Great Wall will have three tunnels and world's largest duty-free store set to open.
Railway will have three tunnels under Great Wall
With Beijing and Zhangjiakou co-bidding for the 2022 Winter Olympics, construction of the Beijing-Zhangjiakou intercity railway is planned. According to the China Academy of Railway Sciences the line will have three tunnels under the Great Wall, reported ynet.com.
The report said explosives and continuous welded rails will be used to eliminate damage to the environment and reduce vibrations, so as to protect the Great Wall scenic spot.
Related:
Water town sits at foot of Great Wall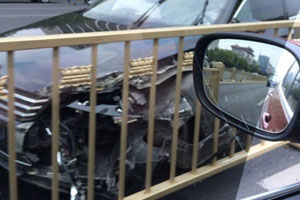 'Golden guardrails' remain intact after impact
A car crashed into the "golden guardrails" on Chang'an Avenue on Tuesday. The left-hand side of the vehicle was destroyed while the guardrails remained intact but out of position, according to Xinhua net.
Police took the car away and the guardrails were pulled back into position. The anti-collision guardrails were installed in April.
Related:
China to step up Tiananmen Square security check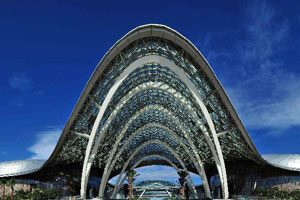 World's largest duty-free store to open in Sanya
Haitang Bay International Shopping Center begins trial operations on September 1 in Sanya, South China's Hainan province, according to Xinhuanet.com.
With investment of 5 billion yuan ($31 billion) and covering an area of 120,000 square meters, the center houses a duty-free area of 45,000 square meters, merging shopping, catering and entertainment.
Related:
Algae scares tourists away from Sanya beach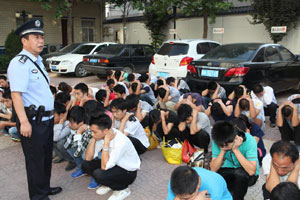 Many pyramid sellers arrested are students
Police in Lintong, Xi'an have broken up 55 pyramid selling gangs and arrested 418 people during a crackdown, reported cnwest.com.
Most pyramid sellers are enticed by recruiters, meeting online friends. Among those arrested 40 percent were college students and the youngest only 14 years old.
Related:
Young man saved from pyramid scheme

Lost ID card used to register 30 phones
A netizen who allegedly lost her identification card claimed on her micro blog that her identity had been used to register more than 30 phone numbers on Monday, Beijing News reported.
An ID card is required to register a phone number. A mobile phone shop discovered the suspicious use of the ID card and contacted the woman. Operators of mobile shops usually ask customers who lose their ID cards to go to any shop to have their numbers cancelled.
Related:

Child accidentally spends $670 on app
A 3-year-old child spent NT$20,000 ($670) on a mobile game in just a month by unintentionally clicking the game's in-app purchase options, according to United Daily News based in Taiwan.
The mother asked the app developer for a refund and was declined. Officials from a local consumer protection committee said consumers should have their passwords validated on their smartphones when making in-app purchases.
Related:
Uber drives into Beijing with vehicle app

Man dies after illegal surgery to remove tattoo
A 19-year-old man surnamed Liu died on Monday after undergoing tattoo removal surgery in an illegal clinic in Yibin, authorities said.
The unlicensed doctor reportedly gave the man two injections of a local anesthetic, but Liu was reportedly in excruciating pain during the surgery. The procedure was halted after Liu began trembling. He later died despite receiving medical treatment at a local hospital, according to police.
Related:

Nervous lover revs car, kills 1 and injures 11
A 49-year-old man surnamed Zhou, who drove to a bus station in Changsha on June 23 to pick up his girlfriend, thought he was stepping on the brake but actually stomped on the accelerator when he saw the woman's mother with her.
The sight of the mother made him so nervous that he stepped on the wrong pedal, he told the police. His mistake caused one death and 11 injuries. He was arrested.
Related:
Questions from a potential Chinese girlfriend