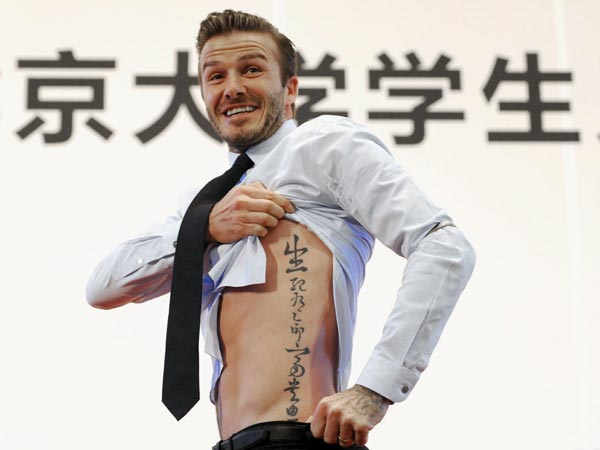 Former England captain David Beckham shows his tattoo to students at Peking University during a visit to Beijing in last year.
Some soccer stars' tattoos of Chinese characters: David Beckham has retired from the game, but he probably remains one of the most influential international sports icons for Chinese fans. When he lifted his shirt to show"生死有命富贵由天" ("Life and death are determined by fate, nobleness and riches decreed by Heaven") tattooed in beautiful calligraphy during a visit to Peking University last year, perhaps, he also became the bearer of the best-known tattoo among soccer players in the country.[Photo/Agencies]
China's national soccer team once again failed to qualify for the FIFA World Cup this summer. But fanatic Chinese fans who have stayed up all night-eyes glued to star-studded stadia in Brazil-have seen one sight that's very familiar.
Many top players like to show off their masculinity with tattoos in Chinese characters. Their inked beliefs on their necks, arms-or wherever-can be entertaining or even a little bizarre for Chinese spectators cheering in front of TVs on the other side of the Earth.
Some of these are broken Chinese sentences that are difficult to understand at first sight. Some have mistakes ranging from grammatical errors to incorrect strokes.
"Tattoos written in Chinese characters have been popular in the Western world for many years because many Westerners have a strong curiosity about this remote land," says Wang Qingyuan, who leads the China Association of Tattoo Artists. "And their funny mistakes have occurred for an equally long time."
According to Wang, encouraging slogans and Chinese proverbs are among the most popular, but he explains that literal translations lead to the errors.