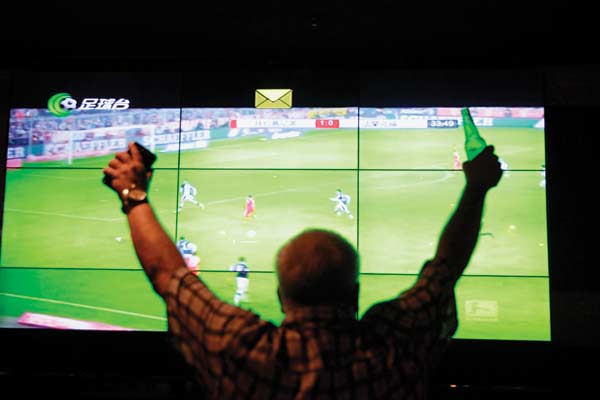 Cheering on your team can be good fun, but late nights and a poor diet can damage your health. [Photo by Gao Erqiang / Shanghai Star]
Staying up late to watch your team can take a toll on your body, but there are preventive measures to soften the blow. Wu Ni reaches for the chrysanthemum tea and a prime seat in front of the TV.
As the World Cup craze sweeps the city, a large number of loyal fans are expected to stay up late for nights on end, shout out at amazing goals and toast the victories of their favorite teams, oblivious to the aftermath — red eyes, hoarse throats and other adverse health effects.
While it's impractical to ask fans to refrain from enjoying the carnival, doctors share their tips on how to tide the body through the sleepless nights without too much damage.
Focus on the heart
Because of the time difference between China and Brazil, the World Cup games will air between midnight to 6 am, which is the most dangerous time for patients with cardiovascular disease, cardiac-cerebral vascular disease and high blood pressure, says Zhou Xiaoyan, a doctor with Shanghai Leiyunshang Traditional Chinese Medicine Center.
"From the perspective of Traditional Chinese Medicine, summer is a season when the human body is deprived of too much jingqi, or vital essence, by the heat in daytime. If there is not enough sleep at night to remedy the loss, the overall biorhythm will be damaged, making it vulnerable to diseases," Zhou says.
"It is important for patients with heart disease to keep a balanced mind, to refrain from overexcitement. And if necessary, prepare some heart-salvage pills." she says.