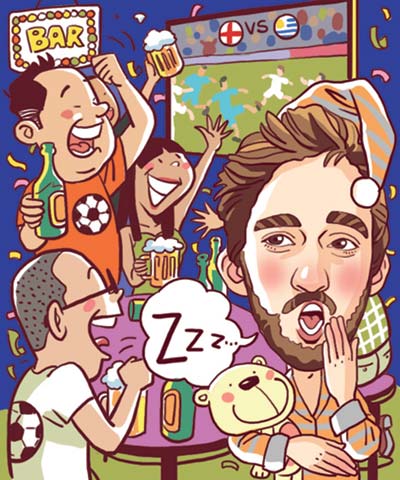 Li Min/China Daily
The curtains have rolled back on the 2014 FIFA World Cup in Brazil. Fortunate fans around the globe have flocked to host cities and are concentrated in Rio de Janeiro, where the final will be held. Yet the Brazilian buzz is not exclusively felt in the host nation, or in the 32 competing countries. Nations eliminated in the qualifying groups have not let their light of fervor flicker in the wind of resignation.
The national team from the world's most populous country may be absent from the international theater, but the Chinese have packed out the seats around the stage. Restaurant and bar areas are hubs of enthusiastic fans; domestic and international fans are pocketed around cities. Although China has only qualified for the World Cup once, in 2002, its soccer supporters are legion. During the last World Cup in South Africa in 2010, China accounted for the largest single-country audience for the tournament, with an average of 17.5 million tuning in for each live match. And it appears much the same this summer.
Inconvenient kickoff times, all from 12 am to 6 am, are not deterring Chinese fans from coming out in droves, appearing from the bleak blackness of the night to gather in the many bars and restaurants, to cheer on their designated team for the night.
While watching the England vs Uruguay match, I looked around and counted 30 or so fellow soccer enthusiasts, divided by teams but united in spirit. At halftime I talked to a Chinese group sitting at a table beside me, all enjoying Beijing-brewed beer poured from a 3-liter glass cup. They weren't rooting for any one team, but had a passion for the game. They'd calculate the two nations' chances pre-game before throwing all their energy and affection into them, and then the next day, recalculate for the next night's festivities.
For more Hot Pot Column stories, click here