Wuhan noodles seek intangible status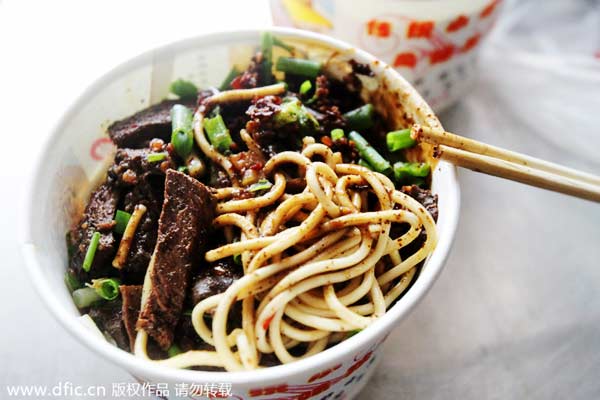 Reganmian with a spicy flavor and a sesame paste dressing [Photo/icpress]
Wuhan's famous hot dry noodles could be the province's latest state-level intangible cultural heritage offering.
The hot dry noodles, also known as "reganmian", is a traditional Wuhan dish from the capital city of Hubei province in Central China. The noodles have enjoyed a long history within Chinese food culture spanning 80 years. Reganmian restaurants can be found throughout Wuhan as the noodles are popular with locals during every season of the year and eaten for breakfast, lunch, and dinner or for even just a snack.
Although the noodles are not difficult to make, making them well requires years of experience. First, the noodles are mixed with sesame oil and then placed into boiling water. Once they are cooked, they need to be cooled with cold water. And the process needs to be repeated before the noodles are served in a bowl. The noodles are usually topped with spring onions and a hand-made sauce.
UNESCO added South Korea's "Kimjang: Making and Sharing Kimchi" to its World Intangible Cultural Heritage list last year. The Korean food addition inspired Chinese people to focus greater attention to their own rich food culture.