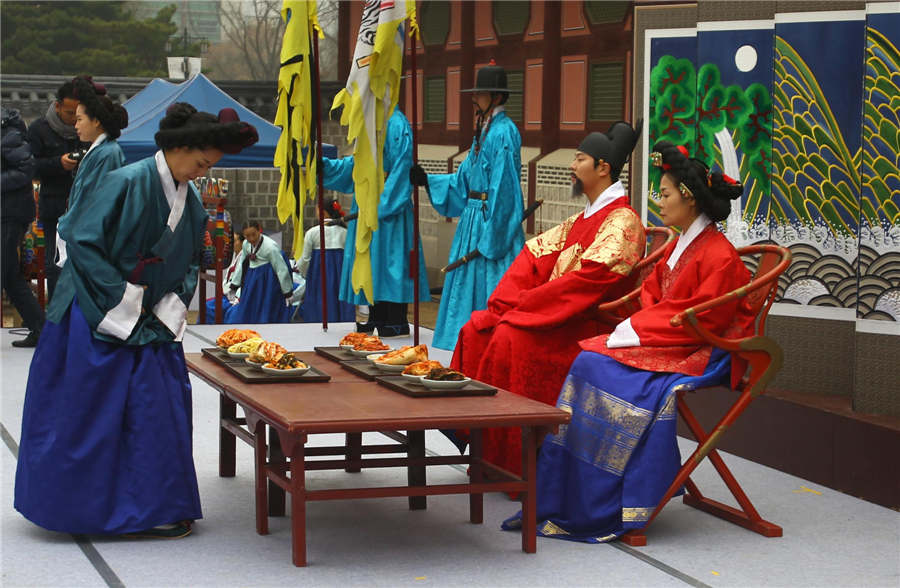 Actors show how kimchi was presented to the emperor during ancient times at Gyeongbok Palace in Seoul, capital city of South Korea on December 5, 2013. On that day, a variety of activities were held to promote kimchi cuisine and culture. South Koreans believe kimchi culture is conducive to strengthening connections between people while also learning the spirit of sharing. [Photo/Xinhua]
UNESCO added South Korea's "Kimjang: Making and Sharing Kimchi" to its World Intangible Cultural Heritage list on December 5.
Kimchi is a traditional fermented vegetable dish, sometimes mixed with fruit, seafood and meat. Its delicious taste and rich nutritional value have made it a must on South Korean dining tables.
There are over 300 different kimchi varieties, among which spicy cabbage kimchi and radish kimchi are the most common. Korean families usually add different seasonings and ingredients when they make their own kimchi, thus making each family's kimchi unique.
The basic process for making kimchi includes washing vegetables, slicing, pickling, adding sauce and preserving. Many kimchi-themed museums have been established in South Korea where various kinds of activities are held to show the uniqueness of kimchi culture.