Twenty-five years after receiving help, a businessman thanks his benefactor with a good job. Runners who relieve themselves in public will be disqualified at the 2014 Beijing Marathon. And expensive bottled water in a photo doesn't send the right government message, some people say.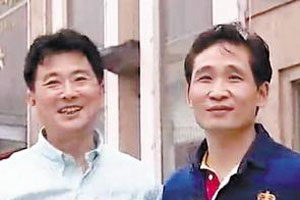 One good turn deserves another
A lovely story was reported by Chongqing Evening News on Tuesday.
Twenty-five years ago in Xuzhou city, Jiangsu province, Zhang Aimin, whose monthly wage was only 90 yuan, loaned Sun Shengrong, who he barely knew, 1,000 yuan to start up Sun's business. Soon they lost touch with each other, both struggling to survive.
Twenty-five years later, Sun, now an accomplished businessman, found Zhang and tried to pay him back with two houses as thanks for the help he received years ago. Zhang refused. Eventually, Sun found his way to pay — by investing 10 million yuan ($1.6 million) in a wine factory and inviting Zhang to run it. Now they have interest in a business enterprise they both share.
Related: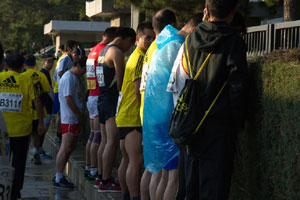 2014 Beijing Marathon prohibits public urination
People who sign up for the 2014 Beijing Marathon are being notified that athletes who urinate publicly will be disqualified and punished, according to Beijing Youth Daily on Tuesday.
A set of pictures showing some athletes urinating along a wall in last year's marathon drew public attention to the lack of temporary toilets for the participants.
This happens in other countries too, since it is quite a challenge to set up toilets along the route of a marathon competition, which is over 42 km.
Related:
Grassland Marathon to kick off in N China

Extra scores cause parents' doubt
Nine hundred and forty-two parents whose children have taken the high school entrance examination in Beijing declare that the existing extra point policy for minorities is unfair in Beijing and request the publication of the original ranking without extra points, 21st Century Business Herald reported on Tuesday.
According to parent Shao Qing, the difficulty of the exam this year has been leveled down, meaning the gap of the marks is tiny and one point could make a huge difference. She complained that it is not fair that students who are minorities but have the same education resources as other students in the Beijing urban area get an extra five points.
Related:
Drama: The College Entrance Examination of 1977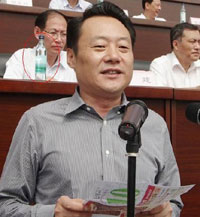 Mixed message conveyed in a picture
A picture of Anqing official Yu Aihua in a meeting where he wrote his speech on a page from a tear-off calendar won praise, with people saying that he advocates government thrift. But other comments about the picture say the opposite, thepaper.cn reported on Monday.
The bottled water served in the meeting, according to insiders, is a special local product in Anhui, costing 30 yuan ($4.8) per bottle. That's much higher than ordinary bottled water, which costs 2 yuan per bottle. The photo aroused discussion among people who asked why, if the government is trying to be thrifty, did they buy expensive bottled water for the meeting?
Related:
Death-leap official leaves graft denial

Police shoot husband who was beating wife
A 29-year-old man named Liu who allegedly suffers from paranoia beat his wife on Sunday evening.
The woman was crying for help when police arrived, but Liu wouldn't stop beating her and even attacked a police officer with a knife. Police shot Liu in the left leg and took him to a hospital. The case is under investigation, Southern Metropolis Daily reported.
Related:
Wife wins case against violent husband

Boy underwater for 10 minutes survives
A 9-year-old boy who had been submerged in water for 10 minutes was saved on Sunday in Xijing Hospital in Xi'an. Doctors at the hospital said if the body does not have sufficient oxygen in the body for more than five minutes, brain cells are irreversibly damaged and intelligence, movement and language abilities are affected.
The boy, however, was walking after a day of treatment at the hospital. The doctor said the boy likely held his breath and won a few minutes before rescuers arrived.
Related:
Mother, son drown selves in river after argument

Woman wins suit after massage breaks 4 ribs
A court in Xinyi ordered a beauty salon to pay a woman who is nearly 60 years old 5,322 yuan ($860) after four of her ribs were fractured during a massage in August.
The woman, surnamed Gao, was given a massage in the salon in an effort to reduce the aging process. Her recuperation cost her 10,644 yuan in medical and nursing fees, hospital food and transportation. The court ordered the salon to cover only half the costs because the woman's bone rarefaction also was to blame.
Related:
Beating the heat with mahjong, water fights and massage

1,327 officials violating austerity rules punished
More than 1,300 government officials in the region were punished in the first half of the year for violating austerity rules, the country's top anti-graft watchdog announced.
Disciplinary authorities uncovered 858 cases involving 1,327 officials for violations such as using government vehicles for private use, buying gifts with public funds, hosting lavish public banquets or extravagant weddings or holding elaborate funerals, said the website of the Central Commission for Discipline Inspection of the Communist Party of China on Monday.
Related:
Anti-graft teams investigate 'naked officials'