Police in Guangzhou, Guangdong province, said they detained a suspect on Wednesday in connection with the Tuesday bus explosion that killed two and injured 32.
On the same day, the Ministry of Public Security called for greater efforts to prevent similar incidents in bus and railway stations.
"This is a case of arson," police said.
Police detained the 25-year-old man, surnamed Ou, in Guangzhou's Baiyun district at 11:47 am, roughly 16 hours after they said he caused the city's No 301 bus to explode.
Ou, who is from Hengnan county in Hunan province, allegedly admitted to his role in the attack. Police said he carried explosive materials that caused the blast onto the bus.
According to the New Express, a newspaper in Guangzhou, the suspect allegedly ignited a large nylon bag of explosives as the bus stopped at Dunhe station. He then escaped by jumping out the rear exit. The suspect was described by people who witnessed the explosion as roughly 175 cm tall and of medium build, the newspaper reported.
Ou, who began working in Guangzhou's Baiyun district in September 2011, set off the blast to vent his anger after losing his money gambling, police said.
Tuesday's explosion is the latest in a series of suspected arson attacks at bus or railway stations in recent months. On Wednesday, the Ministry of Public Security held an emergency meeting and asked authorities at all levels to be on the alert and take immediate and tough action to protect the public's safety.
Severe burns
According to Guangdong Provincial People's Hospital, several of the seriously wounded in Tuesday's explosion were transferred to the hospital on Wednesday morning.
A doctor did not reveal how many of the wounded were transferred, nor did she reveal their conditions.
Most of the wounded sustained severe burns.
The incident has put both the Guangdong provincial and Guangzhou city governments on the alert. Guangdong Party chief Hu Chunhua and Governor Zhu Xiaodan called for an investigation and publication of findings from the probe.
Chen Jianhua, mayor of Guangzhou, visited the victims on Wednesday and urged doctors to do all they can to heal them.
Li Chunsheng, deputy governor of Guangdong and director-general of the Guangdong provincial department of public security, led a team of police officers and specialists at the scene of the explosion to investigate the blast.
Traffic near the scene was normal on Wednesday.
Wang Xiaochun, a white-collar worker, said government departments must ensure the safety of the city's bus operations.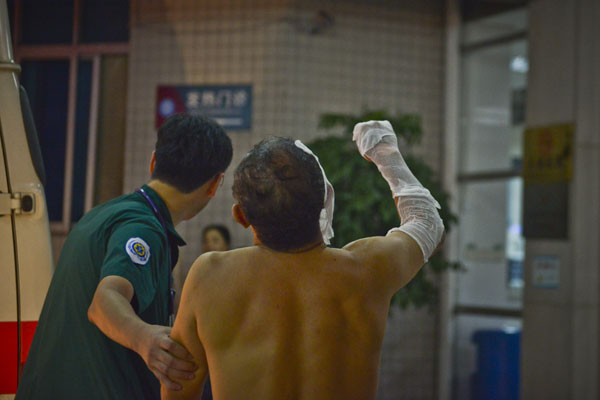 An injured man is helped by a worker at a hospital after a bus explosion in Guangzhou on Tuesday night. Zhou Wei / for China Daily