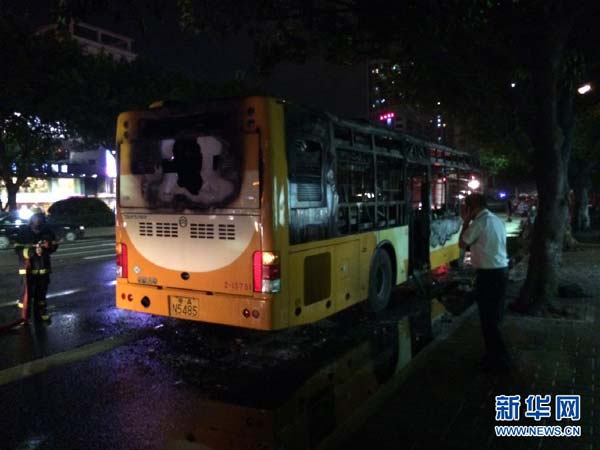 A bus catches fire in Guangzhou, capital of South China's Guangdong province, July 15, 2014.[Photo/Xinhua] 
GUANGZHOU - The suspect in Tuesday's bus explosion in Guangzhou, capital of South China's Guangdong province has confessed that he set the vehicle on fire in anger after gambling losses, local police said Wednesday.
Police caught the suspect, a 25-year-old man surnamed Ou, in downtown Guangzhou in a raid at 11:47 am on Wednesday, according to the municipal public security bureau.
Two people died and 32 were taken to hospital after the blast at around 7:30 pm on Guangzhou Avenue, a pivotal road linking the northern and southern parts of the city.
Most of the victims suffered burns and are being treated at three hospitals in downtown Guangzhou, eight of them in intensive care.
The Guangdong Provincial No. 2 People's Hospital received seven victims, including a woman who is three months pregnant. The mother-to-be, 28, who gave her surname as Chen, had burns covering more than 40 percent of her body and suffered a broken leg. Doctors said the fetus's condition is unstable and needs 24-hour monitoring.
The most seriously injured patient, a 16-year-old boy, is in critical condition and was transferred to another hospital at noon Wednesday.
China has been shocked by a string of violent attacks in recent months.On July 5, a 34-year-old man was suspected of setting fire to a bus in Hangzhou in east China's Zhejiang Province, injuring 32 people.